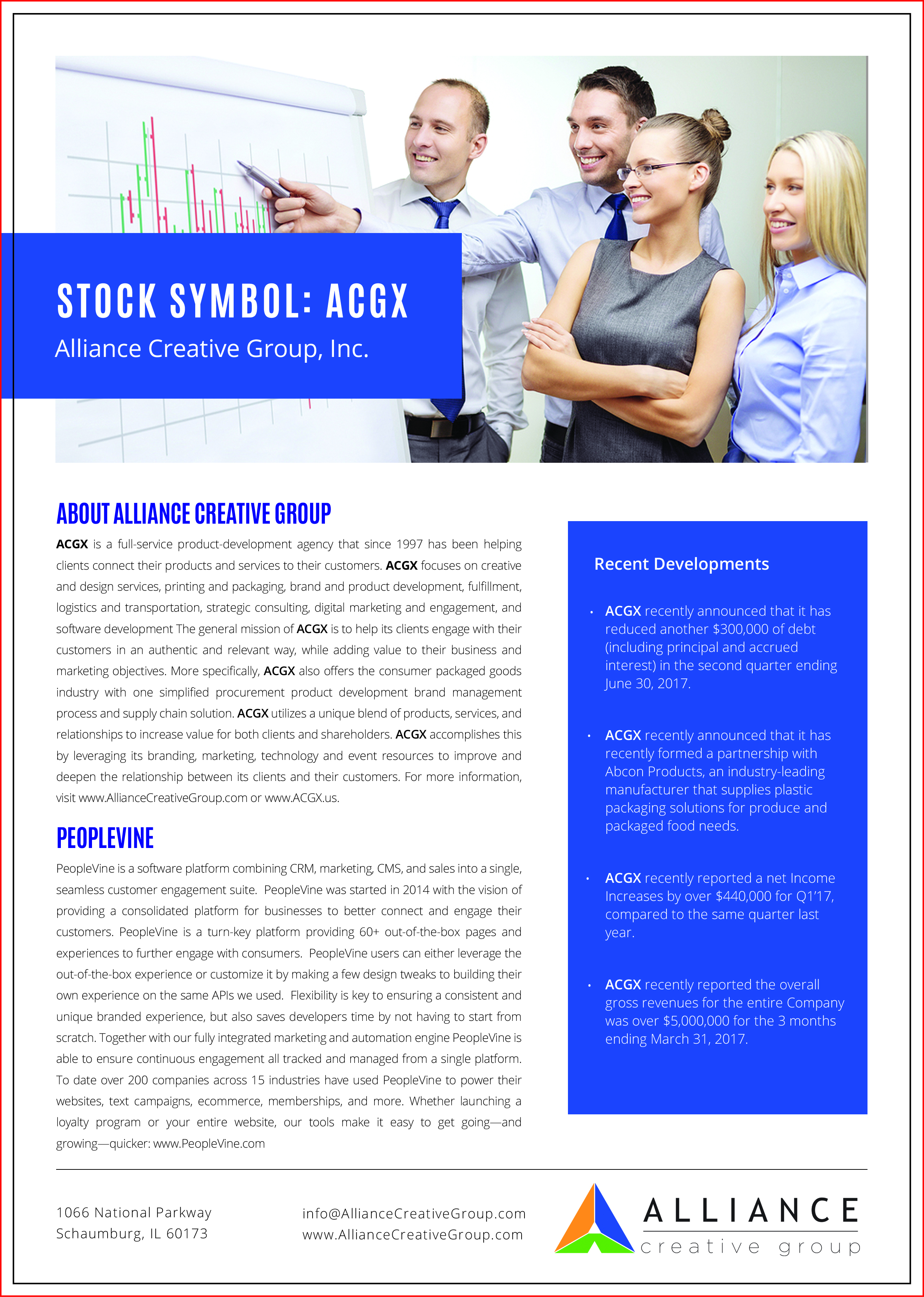 Alliance Creative Group Inc. (ACGX) is a full-service creative packaging, digital marketing and experiential agency that helps clients connect their products or service to their customers.
Our general mission is to help our clients engage with their customers in an authentic and relevant way, while adding value to their business and marketing objectives.
More specifically we also offer the consumer packaged goods industry with one simplified procurement product development brand management process and supply chain solution.
We utilize a unique blend of products, services, and relationships to increase value for both clients and shareholders. We accomplish this by leveraging our branding, marketing, technology and event resources to improve and deepen the relationship between our clients and their customers
The Company key services include: brand strategy, creative and design, content creation, online marketing, print and packaging, supply chain management, direct mail, fulfillment, assembly & kitting, logistics, customer engagement, business consulting and strategic marketing.
For more info visit www.AllianceCreativeGroup.com 
or www.ACGX.us
---
PeopleVine
is an Omni-Channel marketing platform. Also known as the Agency's platform which provides marketers, agencies, independents and brands with the power to build engaging experiences for their (clients') consumers. With the most flexible platform ever built, we are set on a path to show people there's an alternative to building from scratch and encouraging these companies to leverage the PeopleVine Platform so they can focus on strategy and design; after all that's what makes these agencies, brands and marketers unique.
Our PeopleVine software mission is to revolutionize the way our users connect, learn and build effective relationships with their customers.
PeopleVine is a turn-key platform providing 60+ out-of-the-box pages and experiences to further engage with consumers. PeopleVine users can either leverage the out-of-the-box experience or customize it by making a few design tweaks to building their own experience on the same APIs we used. Flexibility is key to ensuring a consistent and unique branded experience, but also saves developers time by not having to start from scratch.
Together with our fully integrated marketing and automation engine PeopleVine is able to ensure continuous engagement all tracked and managed from a single platform.
For more info visit: www.PeopleVine.com
---
Primary Trucking
is an asset based carrier located in Chicago, IL. We specialize in truckload freight outbound from Chicago. We have over 30 years of experience in the transportation industry and we have the tools to be your primary source for transportation.
Our philosophy is simple; we offer our customers the quality service they deserve with competitive pricing. We customize transportation solutions based on our customer's needs. If you need to move your freight locally or coast to coast, we have you covered. No job is too big or too small. We can handle anything, from moving a few pallets to moving an entire warehouse.
We have worked with several different industries over the years and we have hauled several types of freight such as: automotive, trade-show, air freight, high value, building materials, retail, dry food goods, & beverages to name a few. Our fleet of trailers offers tracking, logistic posts, metal roofs, composite walls, wood floors, swing doors, air-ride. We can handle drop-trailers, live-load, live-unload. Just let us know what we can do to help you!!
For more info visit: www.primarytrucking.com
---
Rapid Freight Solutions
Primary Trucking's sister company, utilizes today's technology to ensure our capabilities to move freight around the country fast & safely. Rapid Freight Solutions specializes in LTL, truckload, air freight, hot shot, trade-show, flatbed, intermodal, over-dimensional, step-deck & refrigerated. Due to our 30 years of experience we have developed relationships with over 140 carriers nationwide to ensure our customers quality service & competitive pricing.
For more info visit: www.rapidfreightsolutions.com
---
ACGX's Recent Developments
ACGX recently announced that it has reduced another $300,000 of debt (including principle and accrued interest) in the second quarter ending June 30, 2017.
ACGX recently announced that it has recently formed a partnership with Abcon Products, an industry-leading manufacturer that supplies plastic packaging solutions for produce and packaged food needs.
ACGX recently reported the overall gross revenues for the entire Company was over $5.000,000 for the 3 months ending March 31, 2017
---
Alliance Creative Group
1066 National Parkway
Schaumburg, IL  60173
info@AllianceCreativeGroup.com
COMPANY INFO:
This slideshow requires JavaScript.
---
---
OFFICERS:
STEVEN ST. LOUIS | C.E.O & Chairman of the Board
Mr. St. Louis began his career in 1990 as a Navy Corpsman in the United States Marine Corps infantry. He was part of an elite amphibious recon unit and served in Operation Desert Storm / Desert Shield. Mr. St. Louis received the Kuwait Freedom Medal, a Combat Action Ribbon, and 12 commendations for his service. Following his career in the United States military, Mr. St. Louis attended Illinois State University from 1994 to 1997. He started St. Louis Packaging in 1997 and was the President of St. Louis Packaging, Inc. and STL Graphics Group. He is currently the C.E.O and Chairman of the Board for the Alliance Creative Group.
PAUL SORKIN | C.O.O. & General Counsel
Mr. Sorkin is the C.O.O. and General Counsel for the Alliance Creative Group. He was the prior C.E.O and General Counsel for the Alliance Creative Group/Invicta Group from June 2008 until December of 2011. From 2005 to 2008, Mr. Sorkin served as CEO and General Counsel at Image Worldwide/Nationwide where he was also the publisher of IMAGE magazine, from 1996 to 2004, Mr. Sorkin served as Chief Operating Officer and General Counsel at S & B Collectibles where he supported the company's growth from about 5 employees to over 250 employees and from about $1M in gross revenue to over $100M in gross revenue  nd was involved with releasing new products on TV, in retail distribution and online. Mr. Sorkin holds a B.A. degree from the University of Illinois and a J.D. degree from Chicago Kent College of Law.
KEVIN PIEMONTE | Sr. Vice President
Mr. Piemonte has more than 15 years of successful sales experience. He worked for one of the largest packaging master distributors in North America, producing over $5M in sales in Illinois alone. He leveraged his industry experience and proven account management skills to open and expand the distributor's base of national accounts. In 2002, he joined St. Louis Packaging, Inc. (DBA of the Alliance Creative Group), and his expertise has more than doubled sales.
GREG KARDASZ | Sr. Vice President
Greg Kardasz is Senior Vice President of ACG's Print Division. Prior to his current position Mr. Kardasz has more than 25 years of broad technical knowledge combined with a strong background in print manufacturing operations & implementing ISO quality management systems. His track record of successfully being a lead pressman, managing day to day print operations has been a proven asset for the growth of our print division. Mr. Kardasz is a main driver in the strategic planning, execution and development of products for ACG's print division. His extensive experience in the industry has enabled the ACG to offer the best solution at a very competitive price for our client's. Greg's overall responsibility for the profitability and revenue growth for the division, includes all sales, marketing, service and delivery.
TRAVIS TAPLIN | Director of Operations & Controller
Travis Comes to us with over 20 years of accounting experience, with a majority of his experience coming from the manufacturing arena. As the Controller and Director of Operations for Alliance Creative Group, Travis tracks the day to day activities of the three current divisions as well as Human Resource responsibilities for all locations. He is also currently on the management team helping with the implementation of the new Trucking division. Prior to joining us, Travis did some consulting and was also the CFO for a holding company that had a presence in the Manufacturing, Service, and Real Estate industries for about 7 years. In addition to managing the accounting and finance areas, he was also the acting Human Resources director, and handled personal financial matters for the owners of the holding company. Prior to joining the holding company he had many years of accounting experience in other manufacturing areas such as Aerospace, Automotive, Precision Machining, Plastic Injection Molding, Printing and various assembly operations as well. Travis is also a veteran and served in the United States Navy from 1989-1993.
STEVE TAUCHER | Production Manager
Stephen began his career in direct mail when he should have been enjoying summer and holiday breaks during school. Who knew all that time on the mail shop floor would turn into a career?
Fifteen years later
, Stephen extended those summer vacations into a successful career in production, management, customer service, and sales in the direct mail industry. As the years passed on Stephen was made a partner and eventually became soul owner. After selling his company 2006, Stephen began selling direct mail packages from conception through delivery. Today, he leverages all of that experience as a Production Manager creating solutions for clients at ACG.
JORDAN GILMAN |
President and Chief Software Architect of the PeopleVine division
A platform that he originally founded. He brings over 20 years of experience as a software architect and programmer where 7 of those years were spent at Whirlpool Corporation in a variety of capacities; most recently as the Principal Design Lead for rolling out Whirlpool's eCommerce throughout the globe. He has helped many Fortune 500 companies deliver engaging and interactive experiences for their consumers in addition to helping Whirlpool launch several B2B sales channels online. Mr. Gilman has managed project budgets in upwards of $50,000,000 along with teams across 4 continents totaling 150+ team members. Although his forte is in eCommerce, Mr. Gilman has a wide capacity of knowledge in CRM, Marketing and Consumer Engagement which have helped him build the PeopleVine platform from the ground up. He holds a Bachelor of Science from Indiana University focusing on Information Systems and Computer Science.