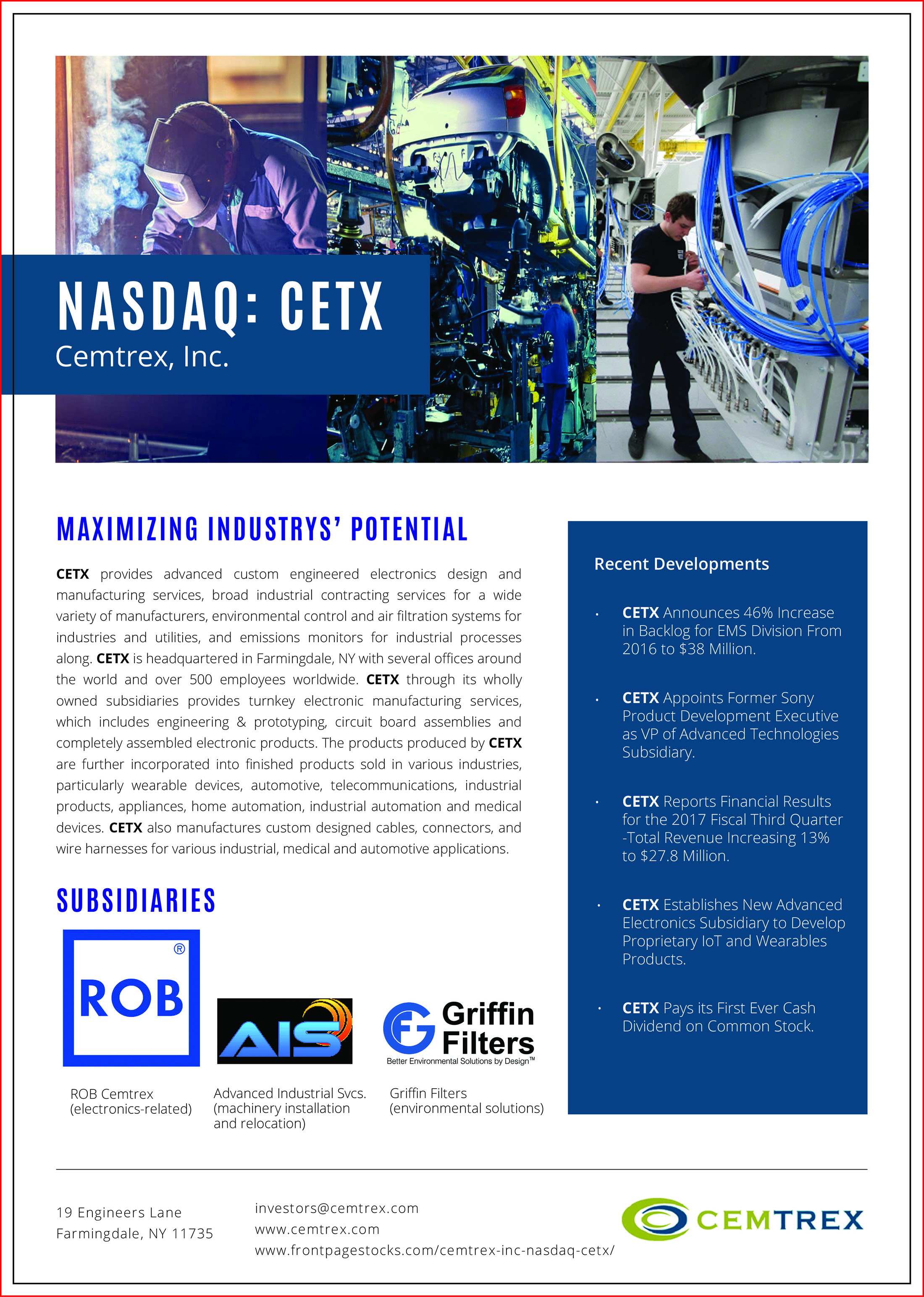 Cemtrex Inc. (Nasdaq: CETX) is a world-leading diversified industrial and manufacturing company that provides a wide array of solutions to meet today's technology challenges.
Cemtrex provides advanced custom engineered electronics design and manufacturing services, broad industrial contracting services for a wide variety of manufacturers, manufacturing logistics, environmental control and air filtration systems for industries and utilities, and emissions monitors for industrial processes.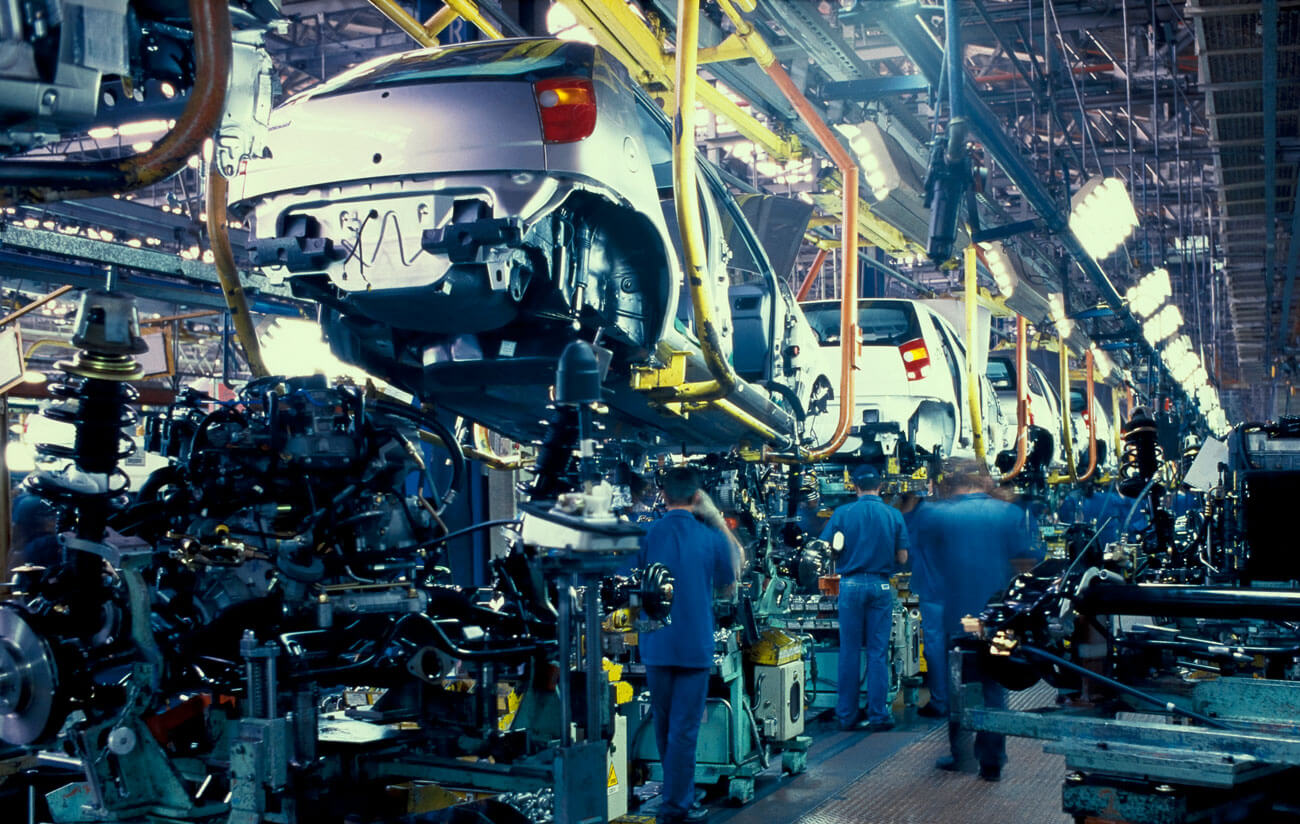 Cemtrex provides advanced custom engineered electronics design and manufacturing services, broad industrial contracting services for a wide variety of manufacturers, environmental control and air filtration systems for industries and utilities, and emissions monitors for industrial processes along. The company is headquartered in Farmingdale, NY with several offices around the world. The company is listed on NASDAQ under the symbol, CETX, and has over 500 employees worldwide.
Electronics Manufacturing Solutions
Cemtrex through its wholly owned subsidiaries provides turnkey electronic manufacturing services, which includes engineering & prototyping, circuit board assemblies and completely assembled electronic products. In connection with the production of assembled products, the Company also provides services to its customers, including:
Automatic and manual assembly and testing of products
Material sourcing and procurement
Manufacturing and test engineering support
Prototype design services
Cemtrex has the ability to produce assemblies requiring mechanical as well as electronic capabilities. The Company helps companies from the prototype and design phase all the way through large run manufacturing and assembly. The products produced by the Cemtrex are further incorporated into finished products sold in various industries, particularly wearable devices, automotive, telecommunications, industrial products, appliances, home automation, industrial automation and medical devices. The Company also manufactures custom designed cables, connectors, and wire harnesses for various industrial, medical and automotive applications.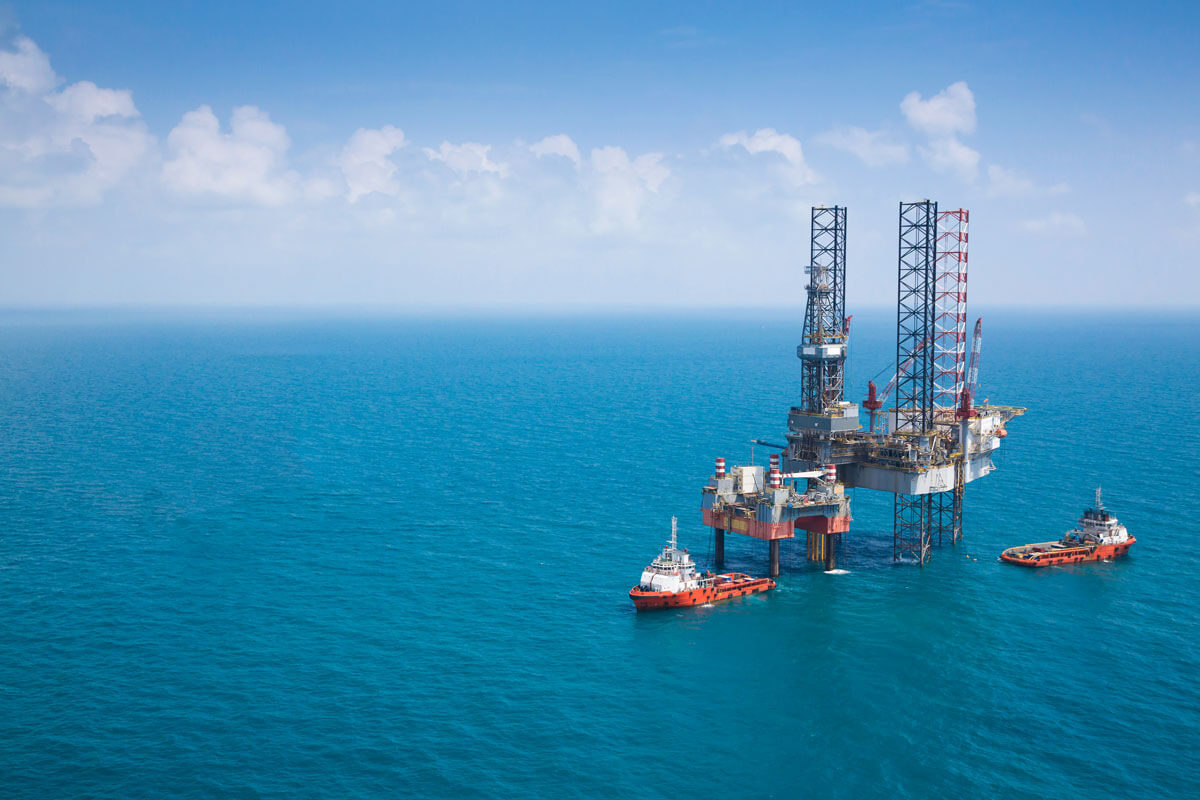 ---
Company Website:
Contact Info:
Cemtrex, Inc.
19 Engineers Lane
Farmingdale, NY 11735
investors@cemtrex.com
---
Cemtrex Electronics Manufacturing Solutions operates under the following brands:
---
Industrial Products & Services
Cemtrex through its subsidiaries provides a complete line of industrial air filtration and environmental control equipment to industries such as: chemical, cement, steel, food, construction, mining, & petrochemical. Our equipment is used to:
Remove dust, corrosive fumes, mists, hydrocarbons, volatile organic compounds, submicron particles and particulate from industrial exhausts and boilers;
Clean noxious and acid gases such as sulfur dioxide, hydrogen chloride, hydrogen sulfide, chlorides, and organics from industrial exhaust stacks prior to discharging to the atmosphere;
Control emissions of coal, dust, sawdust, phosphates, flyash, cement, carbon black, soda ash, silica, etc. from construction facilities, mining operations and dryer exhausts.
The Company also provides turn-key solutions for its environmental products including ancillary equipment such as heaters, pumps, fans, ducting, conveying systems, mixers, and spare parts as well as being responsible for the delivery, installation, erection, and start-up of these systems. Cemtrex, through its subsidiaries, also provides a broad range of industrial services such as rigging, millwrighting, electrical & piping. The Company has vast experience in plant and equipment removal, relocation, and installation for a wide variety of original equipment manufacturers in the packaging, printing, manufacturing, processing, chemicals, and pharmaceutical industries. Additionally, the Company provides optical alignment and precise geometric installation of complex machinery. The Company also has vast transportation and storage capabilities to provide its clients with a turnkey solution for any industrial contracting services that they might require.
Cemtrex through its wholly owned subsidiaries also manufactures and sells advanced instruments for emissions monitoring, process analysis, and controls for industrial applications and compliance with environmental regulations. Emission monitoring systems are installed at the exhaust stacks of industrial facilities and are used to measure the outlet flue gas concentrations of a range of regulated pollutants. Through use of the company's equipment and instrumentation, Cemtrex clients can monitor the exhausts to the atmosphere from their facilities and comply with Environmental Protection Agency and state and local emission regulations on dust, particulate, fumes, acid gases and other regulated pollutants into the atmosphere.
The Company provides a single source responsibility for design, engineering, assembly, installation and maintenance of systems to its customers. The Company's products are designed to operate so as to allow its users to determine their compliance with the latest governmental emissions regulations. The Company's products measure the concentrations of various regulated pollutants in the flue gases discharging the exhaust stacks at various utilities and industries. Cemtrex also markets a range of crude oil and natural gas analyzers. These products provide real time measurement of various properties specific to the refining processes of oil and gas. Some of the properties include RON, salt and water content, pH, viscosity, and other critical parameters that can be used to improve the blending and refining processes. The analyzers are sold to refineries and similar facilities to optimize the yield of blended and refined product.
Cemtrex Industrial Products and Services Group operates under the following brands:
Executive Team
Saagar Govil, CEO
Saagar Govil has been with Cemtrex since 2008 and has been the Company's Chief Executive Officer and President since December 2011. He was recently named #17 on Business Insider's "Top 100 of Silicon Alley" and "Top 40 Under 40" by Stony Brook University. Prior to becoming the CEO, he was Vice President of Operations, responsible for sales, marketing, production, and engineering. He began his career as an applications engineer providing customer support on-site and designing turn-key engineered systems for various customers and projects. Saagar Govil has a B.E. in Materials Engineering from Stony Brook University, N.Y.
Renato Dela Rama, CFO
Renato Dela Rama has been Chief Financial Officer of Cemtrex since December 2004. Prior to that, he worked in various accounting , banking  and financial management positions. Mr. Dela Rama holds a B.S. degree in Business Administration with an Accounting major,  with a Master's  in Business Administration and Certified Public Accountant (Foreign country).
Board of Directors
---
Aron Govil, Director
Raju Panjwani, Director
Raju is an accomplished executive with over 35 years of experience, including 20 years on Wall Street, and 20 years as an entrepreneur and business builder. Raju was a Managing Director with Morgan Stanley, where he spent 18 years in several senior roles in risk management, audit, strategy and being the Chief Operating Officer and Country Head for the Firm's India office. Since leaving Morgan Stanley in 2005, Raju has considerable experience in emerging Asian markets, with a reputation built on focused execution, high integrity and strong relationships. He has excellent connectivity in US and India with a proven track record in negotiating complex joint ventures, mergers & acquisitions, and capital raises, particularly within the technology sector. Raju is a CPA in New York State and spent several years with Price Waterhouse and other accounting firms prior to joining Morgan Stanley.
Shamik Shah, Director
Shamik Shah is currently a Derivatives Trader with Chicago Trading Company ("CTC"), specializing in Natural Gas futures and options. He has vast experience in various trading strategies, energy markets, electronic trading, and market making. Prior to working with CTC, he worked for a fund of funds at Rothschild providing analytics, research, and due diligence in hedge funds across multiple strategies. He is an avid investor with keen insight into stocks, options, and commodities markets. Shamik studied Finance and International Business at New York University's Stern School of Business.
Sunny Patel, Director
Sunny Patel presently serves as a manager for Three Point Capital, a premier specialty finance company. He has vast experience in loan origination and creative financing vehicles for growth companies and project financing. Before joining Three Point in 2010, Sunny was an equity derivatives trader at Group 1 Trading for several years. Sunny is an activist investor who focuses on emerging growth companies with strong fundamentals. He is CFA Level 3 candidate and graduated Cum Laude from New York University's Stern School of Business.