Cytta Corp (OTCQB-CYCA) is a US Company, listed and trading on OTC Pink markets under the symbol CYCA.
Cytta delivers real time, accurate health and wellness, and any other remote location information utilizing all manufacturers'  monitoring device through any Android Smartphone to any existing or customized Electronic Biometric Record (EBR) or Industrial Data Repository (IDR) platform. The Cytta Connect™ solution is completely secure, 100% reliable, easily portable, and customizable using the equipment you want! Cytta has for several years been designing and building a remote data transmission ecosystem called Cytta Connect™ that now allows any Bluetooth device to automatically send its data to our specially provisioned Android SmartPhone and then instantly pass that data to our Instant EBR™ or Industrial Data Repository IDR, a cloud based Electronic Record and  relational database.  This relational database is automatically populated with all your readings and information, allowing you to review and monitor your status on an ongoing basis using the Cytta Cloud Engine™. Cytta Corp. is an open source remote monitoring ubiquitous connectivity platform known for its highly scalable and secure Healthcare telehealth solutions.In addition to the Doctor Direct system, we are now offering the Cytta Connect technology to the Oil & Gas industry and will make available our remote data capture highway that connects monitoring devices seamlessly to a cloud-based data repository. Our remote data capture system works over our Special Purpose Network, a proprietary smartphone based, Mobile, Satellite, and WiFi open source network, and cloud-based data repository. The Cytta Connect technology automatically connects all remote monitoring devices to Cytta's cloud-based data repository creating real time communication for the Healthcare/Telehealth and Oil & Gas industries with world leading compression heretofore unavailable in the market.
CORPORATE WEBSITE
CYTTA VIDEOS
www.youtube.com/watch?v=rMN4dLHanNk
www.youtube.com/watch?v=ai-Fv28w1oM
www.youtube.com/watch?v=3u0MBgr3gjE
www.youtube.com/watch?v=OFTiJL476Bw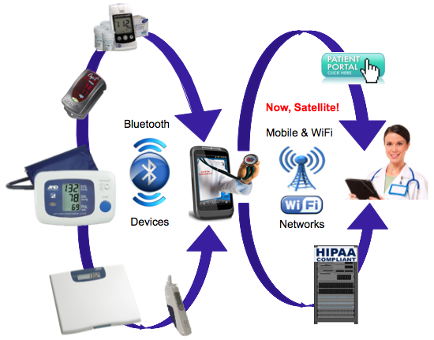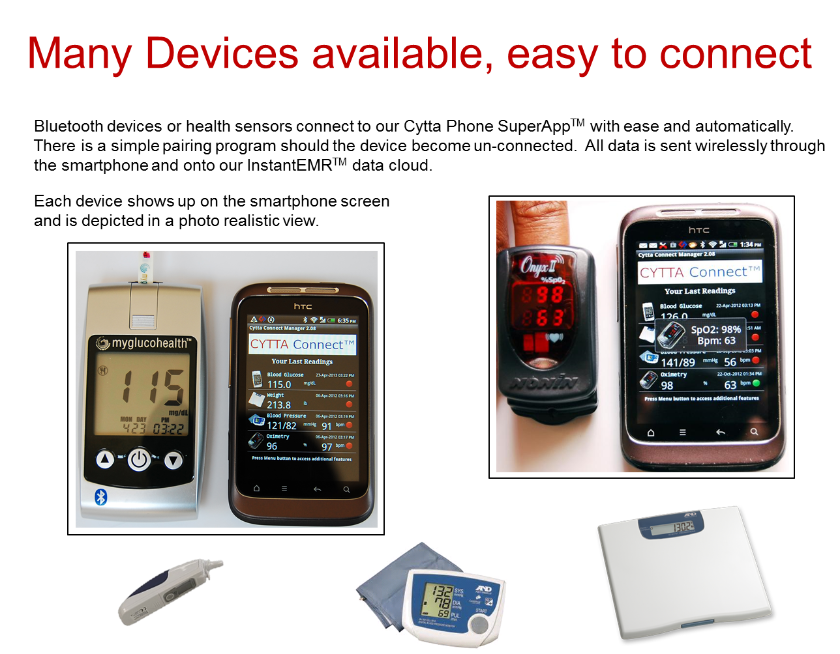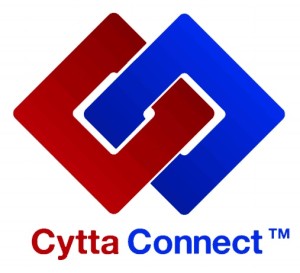 COMPANY RELATED ITEMS
COMPANY NEWS
Key Personnel:
Gary Campbell, CEO, Director
Mr. Campbell brings to the Company three decades of small cap public company experience wherein he has assisted in the formation, operation and financing of numerous public companies and established ongoing contacts within the US and International telecommunications, medical and financial community. Mr. Campbell began his career as a securities, broadcasting and telecommunications attorney. Mr. Campbell was a Director, financier and primarily responsible for the IPO of International Verifact Inc. the inventor of the electronic point of sale terminal. He was also directly involved in the development of cellular accounting data systems and technology, which lead to the development of the TRACfone an early stage MVNO. Mr. Campbell then developed a major provider of cellular rental services utilizing the advanced technology eventually became the national cellular rental administrator for AT&T. Mr. Campbell also partnered with Samsung in the development of screen based software and applications for Samsung's Anyweb internet appliance, and developed and implemented a first generation comprehensive remote medical monitoring system for the Anyweb device. Mr. Campbell has degrees in Commerce and Law.
Erik Stephansen, President, Director
Mr. Stephansen is a private equity adviser and former banker who is experienced in corporate development, technology and sales management work with Cisco, Microsoft and other Fortune 500 companies. He has advisory board experience with several US companies and an Australian technology company. As a key strategist and architect of the Cytta Connect system and ecosystem, Mr. Stephansen is a vocal proponent of the "quantified self" movement and ardent supporter of empowering patients in their own care. An innovative business executive with documented knowledge of the following industries: medical, financial and professional services, hardware and software technologies, Mr. Stephansen is a successful team engagement manager who generates creative profit-making and problem-solving strategies. He utilizes collaboration, humor and conflict resolution skills to enhance all business environments and is known for creating strategic partnerships that are beneficial to all parties. Mr. Stephansen is a Business Economics graduate of University of California, Santa Barbara with specialized studies at UC Berkeley and Stanford University. He is an avid skier and aerobatic pilot.
John Dinovo, CTO, Director
Mr. Dinovo has more than 25 years of P&L, Operations Management, Supply Chain Management and Leadership experience in contract manufacturing environments and plants with as many as 100 personnel. Mr. Dinovo repeatedly succeeded in increasing financial performance, productivity, quality, safety, customer service, and customer satisfaction. As a long time CEO Mr. Dinovo grew and built a successful contract manufacturer organization from ground up. Designed/Built 25,000 sq. foot high tech manufacturing facility with four (4) fully integrated high speed surface mount and two prototype lines, 10 million dollars of per year revenue and 100 employed staff. Mr. Dinovo holds a BS in Electrical Engineering earned with honors from University of Nebraska, Lincoln, 1980. He is a US Navy Vietnam Veteran and Instrument Rated Private Pilot.
Hans Ziesmann, Business Development Director
Mr. Ziesmann has over 25 years' experience managing large-scale sales and business development projects. He has industry expertise working with international and major US brands and start-ups His work continues to generate hundreds of millions of dollars in new revenue. His forte is leveraging and initiating C-level relationships to build recurring sales structures. Since 2000, Hans has been instrumental in formulating Brother International's national sales strategy while providing in-the-field support to their sales team. He created and manages Pilotage Inc., a business development group that worked with Australian-based YourAmigo, India-based Zydex Inc., and several US customers to reach high-level clients. Previously, Hans founded and built his own printing and textiles business, which he owned and operated for 13 years and successfully sold in 2001. Hans received his B.A. from the University of California, Santa Barbara. He is an avid skier, pilot, motorcycle and healthy-living enthusiast.