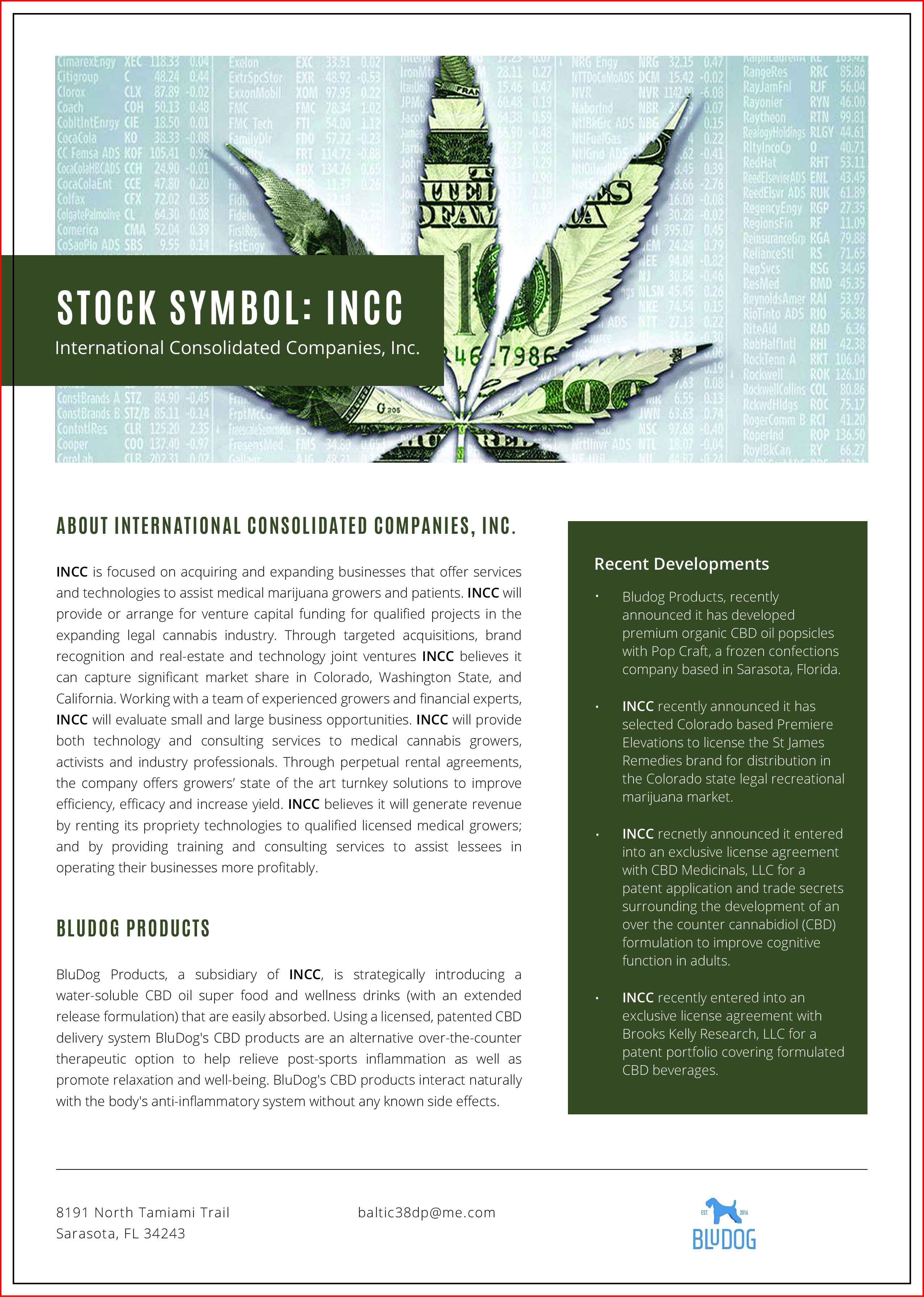 International Consolidated Companies, Inc. (OTC:INCC), is focused on acquiring and expanding businesses that offer services and technologies to assist medical marijuana growers and patients.  The Company will provide or arrange for venture capital funding for projects in the cannabis industry.  Through targeted acquisitions, brand recognition and real estate and technology joint ventures, INCC believes it can capture significant market share in Colorado, Washington State and California.  Working with a team of experienced growers and financial experts, INCC will evaluate small and large business opportunities.  INCC will provide both technology and consulting services to medical cannabis growers, activists and industry professionals. Through perpetual rental agreements, INCC offers growers' state of the art, turnkey solutions to improve efficiency, efficacy and solutions to increase yield.  INCC believes it will generate revenue by renting its proprietary technologies to qualified licensed medical growers;  and by providing training and consulting services to assist lessees in operating their businesses more profitably.

Bluedog Products, LLC., a subsidiary of INCC, is strategically introducing a water soluble CBD oil super-food and wellness drinks (with an extended release formulation) that are easily absorbed.  Using a licensed, patented CBD delivery system, BluDog's CBD products are an alternative over-the-counter therapeutic option to help relieve post-sports inflammation as well as promote relaxation and well-being.  BluDog's CBD products interact naturally with the body's anti-inflammatory system without any known side effects.
The Multi-Billion $ Market
BDP is tapping into a multi-billion dollar market for effective, non-addictive and nonopioid
pain relief products that have no known side effects. With the demand for pain solutions, many prescribed products have come under scrutiny. Prescription drug abuse is currently the nation's fastest growing drug addiction. The global nutraceuticals market reached $142.1 billion in 2011 and is expected to reach a staggering $204.8 billion by 2017, growing at a CAGR of 6.3%, according to a new market report from Transparency Market Research, Albany, NY. ** According to the American Pain Society, pain is the most common symptom that causes people to seek medical care. The global market for pain management by revenue at manufacturers' sales levels is projected to grow from $33.6 billion in 2014 to nearly $34.8 billion in 2015, and $41.3 billion in 2020, with a compound annual growth rate (CAGR) of 3.2% between 2015 and 2020. U.S. sales account for approximately 48% of all of these sales. BDP is focusing on the over-the- counter segment of this market.*** North America enjoyed the highest market share for nutraceutical products at $56.4 billion in 2011.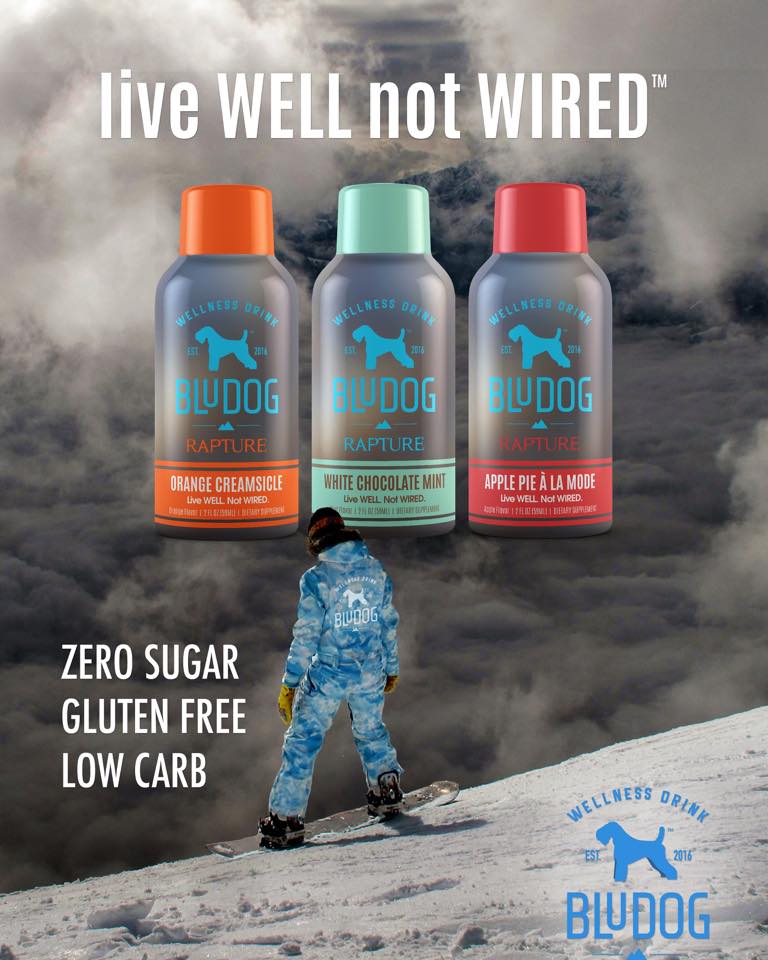 ---
Company Website:
Contact Info:
International Consolidated Companies, Inc.
8191 North Tamiami Trail
Sarasota, FL 34243
Phone: (720) 460-0734
Email: baltic38dp@me.com
---

Why BluDog Products?
BDP will focus on CBD products with improved bioavailability, including water-soluble CBD. We currently hold an option to license a recently issued patent and trade secrets (patented formulation), for water-soluble CBD and its core technology that has the additional benefits of an extended release formulation. With this exclusive patent we can offer the exceptional combination of price, quality and effectiveness, not provided by the competition, creating a strong brand presence to quickly acquire market share.
Marketing & Timing
BDP will deploy highly effective marketing strategies to enter into the pain management category. The multi-billion dollar market for nutritional supplements continues to fuel growth potential in the healthcare, pharmaceutical and nutritional supplement industries. Industry analysts expect the nutrition supplement market to reach $175 billion globally by 2020. Currently, the marketing of CBD products is disjointed, unprofessional and very limited. Most CBD product providers market by word-of-mouth, clunky websites and to local retail stores. We believe by having an aggressive marketing strategy, we'll be able to capture market share quickly and become the national leader in the CBD category. The large gap created by unmet consumer needs in an untapped market is a "perfect storm" for BDP. Our goal is to quickly acquire superior brand recognition and customer loyalty. As the first mover to sell extended release water-soluble CBD supported by sophisticated targeted and heavily branded marketing, CBD will have a superior competitive advantage. Our intention is to be the first to go mainstream with quality, effective CBD products.
---
Key Personnel:
Company Officers/Contacts
Antonio F Uccello, III
CEO
Arnold Avi Yoskowitz
VP, Land
Company Directors
Antonio F Uccello, III
Chairman