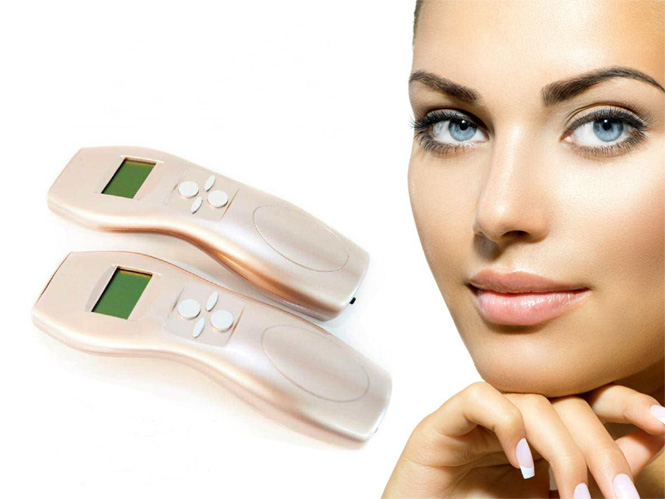 Medifirst Solutions, Inc. (OTC TRADING SYMBOL: MFST)
is a Nevada corporation that is headquartered in New Jersey. In response to its Premarket Notification 510(k) submission for The Time Machine Series Laser, received clearance from the U.S. Food and Drug Administration to market its infrared Time Machine TTML-8102000 Laser Thermal Therapeutic Device. The Time Machine Series Lasers Model TTML-8102000 – 810/830nm is intended for use in temporary relief of minor muscle and joint pain, stiffness, minor arthritis pain, muscle spasm, temporary increase in local blood circulation and temporary relaxation of muscles by means of topical elevated tissue temperature from infrared spectral emissions. Due to the decrease of inflammation, patients have seen immediate aesthetic improvements as well, such as in scar healing and incisions. The hand-held laser device, with pin-point accuracy, often gives patients immediate results with no redness, swelling or down-time. This unique laser device offers medical professionals an affordable and effective tool to enhance their treatment protocols for their patients and provide new revenue streams for their practice. The laser division will be operated out of Medifirst's wholly owned subsidiary, Medical Lasers Manufacturer. Visit www.medifirstsolutions.com for more information.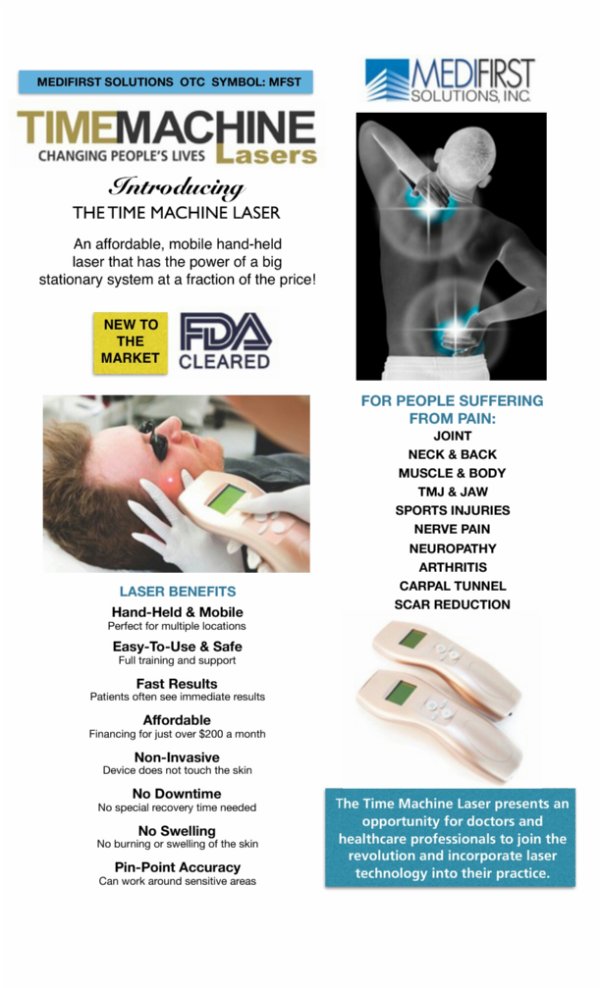 ---
Company Officers / Contacts:
Bruce J. Schoengood, President Bruce has been Chief Executive Officer of Medifirst Solutions, Inc. since March 16, 2011. Holding key management positions in publicly trading companies,  Mr. Schoengood previously served as COO of The Evermedia Group, Inc. and CEO of Dynamic Media. Mr. Schoengood was honored by Mental Health America NJ with the Golden Bell Media Award (left) was the Founder,  Editor and Publisher of "Successful Child" magazine, an innovative publication devoted to informing and educating parents of children with special needs. Mr. Schoengood worked in the medical education industry consulting for such firms as Haymarket Medical, Physician's Weekly. Genecom and Science & Medicine. As either Publisher, Creative Director or Editor, Schoengood has launched and created  dozens of national newsstand magazines and products in numerous genres including his own publishing company, Blackout Comics. Schoengood has also worked as a marketing and advertising consultant for consumer products including health products, cable and internet devices and fashion. With almost three decades of hands-on experience, Bruce's expertise extends into all facets of publishing, marketing, advertising: distribution, circulation, printing, production, promotion and creative development. ​ Mental Health America NJ Golden Bell Leadership Awards acknowledge the outstanding performance of individuals and companies who have changed the public perception about mental health or made a significant change affecting the mental health of children, families or adults. ​
Advisory Board
Richard J. Berman Richard is a key advisor to the company and Mr. Schoengood. Richard Berman's business career spans over 35 years of venture capital, senior management and merger & acquisitions experience.  Mr. Berman is a well-respected and seasoned professional, senior executive and public company board member with extensive experience with pharma, healthcare, biotechnology and life sciences companies, in additional to vast experience working in the financial sector.  Over the course of his esteemed career, he has served as a director or officer of more than a dozen public and private companies. In 2014, he was elected Chairman of MetaStat Inc.  From 2006-2011, he was Chairman of National Investment Managers, a company with $12 billion in pension administration assets. Mr. Berman is a director of four public healthcare companies: Advaxis, Inc., Caladrius Biosciences, Inc., MetaStat Inc. [Chairman] and Cryoport Inc. From 2002 to 2010, he was a director of Nexmed Inc where he also served as Chairman/CEO in 2008 and 2009 (now called Apricus Biosciences, Inc.). From 1998-2000, he was employed by Internet Commerce Corporation (now Easylink Services) as Chairman and CEO, and was a director from 1998 to 2012. Previously, Mr. Berman worked at Goldman Sachs; was Senior Vice President of Bankers Trust Company, where he started the M&A and Leveraged Buyout Departments; created the largest battery company in the world in the 1980's by merging Prestolite, General Battery and Exide to form Exide Technologies (XIDE); helped to create what is now Soho (NYC) by developing five buildings; and advised on over $4 billion of M&A transactions in over 300 deals. ​ ​ Dr. Ronald L. Rubin, VP & Medical Director Dr. Ronald Rubin DMD, Oral & Maxillofacial Surgeon/Oral Facial Implant Center Of Boca Raton Dr. Rubin is a graduate of Howard University Dental School, D.M.D. and served as Chief Resident in Oral and Maxillofacial Surgery at Tufts-New England Medical Center Hospitals and the Boston Medical Center. --Private Practice in Boca Raton, Florida since 1977. --Past President of the South Palm Beach County Dental Association. --Prior service as a Delegate for the Florida Dental Association. --Prior service on the Medical Staff, Division of Surgery of 4 local Hospitals. --Former Founding Member of the Deans Advisory Board of the Florida Atlantic University Medical School. Blaine Riley Blaine is an advisor and consultant to Medifirst. With almost 30 years of advisory experience servicing companies in the US capital markets, Mr. Riley is the Founder, President and Managing Partner of International Monetary (IM). Under Mr. Riley's leadership role, International Monetary has spearheaded and expanded business development efforts with private and public companies ranging from emerging growth to the middle market. Specializing in the healthcare industry and specifically in the biotech and medical device sectors while at Shearson Lehman Brothers (La Jolla, CA), Mr. Riley focused on the discovery of undervalued healthcare companies for affluent buy-side clients that included physician groups and medical practitioners while providing capital advisory services to public company CEO's and CFO's in the health care industry. Blaine has initiated, advised and managed over 100 company clients through the initial public offering (IPO) and reverse takeover (RTO) processes providing capital formation guidance and investor awareness (investor & public relations) services. Additionally, he Implemented, developed, and organized IM's M&A advisory and consulting business making it a top M&A advisory firm, especially to micro and small cap public companies that are in need of a change of corporate direction or have the desire to consolidate their industries. Prior to founding International Monetary, Mr. Riley held key positions at Wedbush Morgan, Shearson Lehman Brothers, National Capital LLC, and iCapital Corporation. While at Wedbush Morgan, Mr. Riley devised tactical trading strategies for trading options on Leveraged Buy Outs (LBO's) for wealthy individuals and institutional investors. In addition, he provided capital advisory services to micro and small cap companies that were looking growth and expansion capital. As the Director of the investment banking department at National Capital LLC, Mr. Riley helped organize its investment banking, capital markets, analyst department, and assisted with the syndication of over 20 IPO and PIPE financings. His role was vital in building the company from approximately $2M in revenues to almost $30M in revenues in just under 3 years. Sichenzia, Ross, Friedman, Ference LLP The firm represents issuers in corporate finance transactions, mergers and acquisitions, private equity financing transactions, registered direct transactions, public offerings and other securities offerings. In addition, Mr. Jay Yamamoto, key counsel to Medifirst, advises companies and their boards on securities law compliance, corporate governance and 1934 Act reporting requirements. Sichenzia, Ross, Friedman, Ference, LLP provides experienced, professional representation in all matters involving the securities industry, as well as in all general corporate and litigation matters. It's clients range from start-ups to established, listed companies. They include public and private corporations, partnerships, broker-dealers, investment banks, investment advisors, registered personnel, public and corporate customers and investors, and other entities. Its areas of expertise include corporate and commercial transactions, mergers and acquisitions, securities litigation and arbitration, administrative practice before regulatory agencies, and broker-dealer regulation. In addition, they provide guidance to Boards of Directors and corporate managers who now operate in an increasingly complex and changing landscape of securities rules, litigation risks, regulatory oversight and investor scrutiny. ​ Company Counsel:  Sichenzia, Ross, Friedman, Ference LLP   •   Robert Laskowski PA Auditing services:  Fruci and Associates, Certified Public Accountants, PCAOB
---
Financial Reporting/Disclosure Reporting Status U.S. Reporting: SEC Reporting Audited Financials Audited Latest Report Dec 31, 2015 10-K CIK 0001522704 Fiscal Year End 12/31 OTC Marketplace OTCQB Profile Data SIC – Industry Classification 2111 – Cigarettes Incorporated In: NV, USA Year of Inc. 2011Financial Reporting/Disclosure Reporting Status U.S. Reporting: SEC Reporting Audited Financials Audited Latest Report Dec 31, 2015 10-K CIK 0001522704 Fiscal Year End 12/31 OTC Marketplace OTCQB Profile Data SIC – Industry Classification 2111 – Cigarettes Incorporated In: NV, USA Year of Inc. 2011