Soupman Inc. (SOUP) is a manufacturer and multi-channel marketer of premium soups that are offered under the "Original Soupman" brand to consumers and the food service industry. In addition to our franchise location. Our license from Al Yeganeh, the legendary "soupman," provides the company with access to Mr. Yeganeh's recipes, name, likeness and other intellectual properties.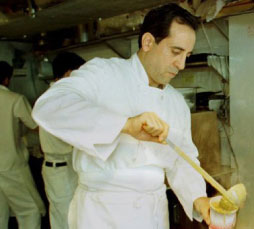 In 1984, The Original SoupMan® opened its doors at 55th Street & 8th Avenue in Manhattan and quickly became a worldwide destination. Rated #1 by Zagat and praised by the New York Times as "Art, not Soup," it set the standard for innovation and excellence long before the famous "Seinfeld" episode made it a cultural icon. We sell soup across America in Tetra Pak cartons in grocery stores next to Campbell's and Progresso as well as in our franchise restaurants, soupmobiles and foodservices.  Shaquille O'Neal is an advisor and equity partner, as are Mr. October, Reggie Jackson and the award-winning actor, Jason Alexander. Soupman Inc., is a fully reporting public company trading under the symbol SOUP. For additional information on our company please visit: www.originalsoupman.com Follow us on Twitter @OriginalSoupMan and "Like" us on Facebook.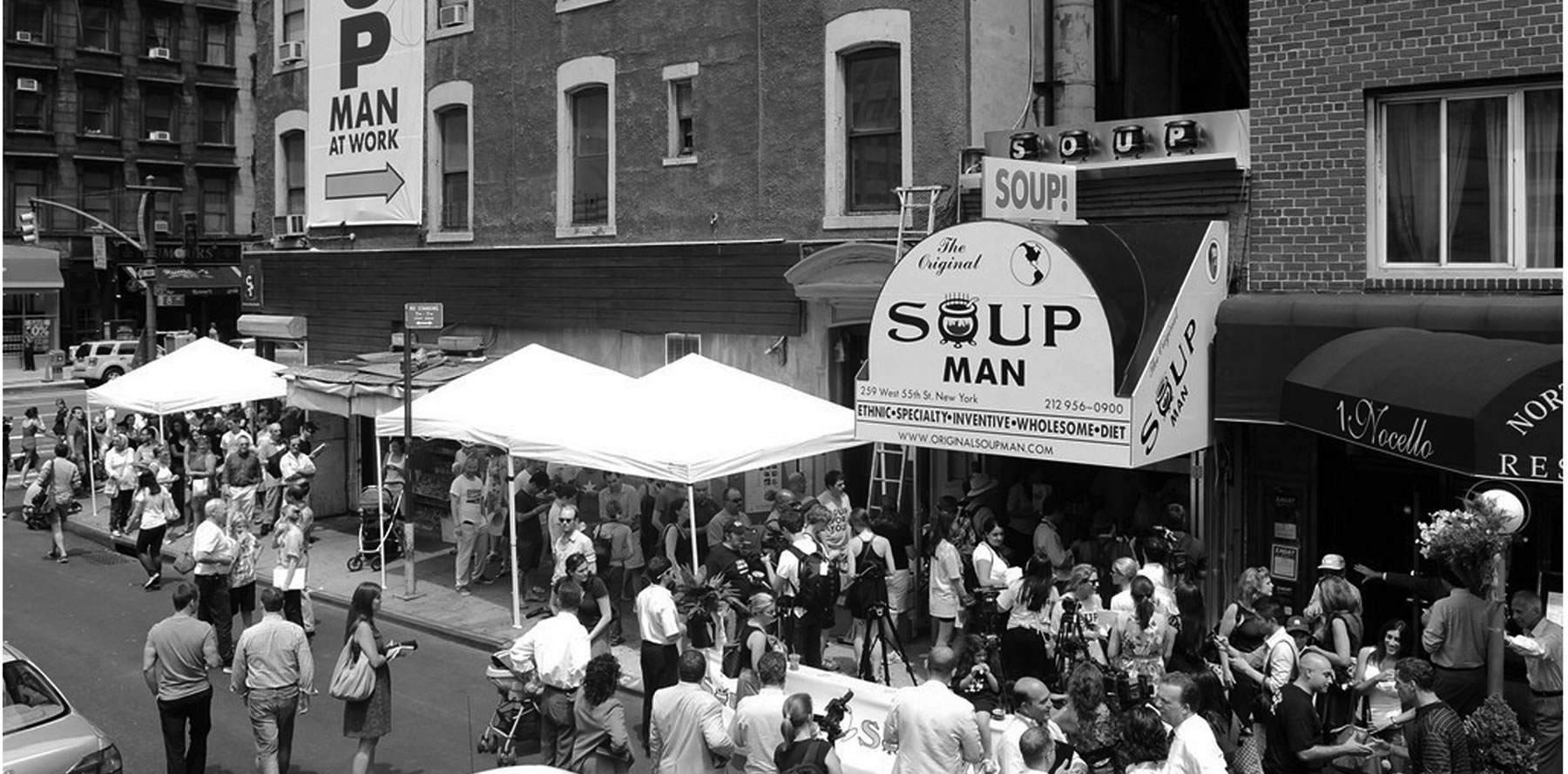 COMPANY WEBSITE:
Shaquille O'Neal's introduction to Original Soupman: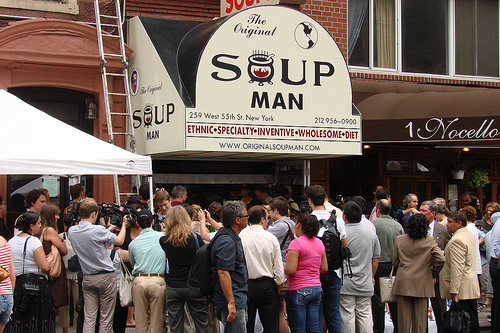 Key Personnel:
Jamieson Karson | CHAIRMAN OF THE BOARD & CEO
In his position as Chairman of the Board and CEO, Jamie will work with the Board members and the management team to drive revenues and profits and to build upon the Soupman brand.
As the former CEO and Chairman of the Board of Steven Madden, LTD., the global footwear, accessories and apparel company, Jamie was instrumental in guiding Steven Madden revenues, profits and market cap to grow significantly despite the company facing extraordinary challenges. He is credited with stabilizing the company and expanding the company's footprint into the global retail and wholesale markets. After Steve Madden, he was a partner at Lightship Partners, a retail consulting firm. He has considerable expertise in the restaurant business and holds a law degree and in his most recent position was Senior Counsel at Dentons, the world's largest law firm.
Steve Madden was named "Footwear Company of the Year" twice and the company was recognized by the International Council of Shopping Centers (ICSC) as one of the "Top Ten Retailers in America." Mr. Karson was named "Top Ten Best Retail CEOs in America" by consulting firm HVS.
Robert Bertrand | PRESIDENT, CHIEF FINANCIAL OFFICER
Bob is responsible for all financial and administrative functions of our company, and benefits from having held this same position at Soup Kitchen International since 2004. With 33 years of financial and operations experience, Bob brings well-honed fiscal and management disciplines to our organization. For two prior years, he was the Chief Operating Officer and Chief Financial Officer of a startup manufacturer of healthy, indulgent chocolate products sold under the brand name of "SOBE."
From 2000 to 2002, Bob was a partner in Bullard Financial, Inc. a firm specializing in strategic financial planning for small businesses, their owners, and their officers. Mr. Bertrand spent 20 years with two publicly traded companies, Industrial Acoustics Company, Inc. (from 1990 to 2000) and Bairnco Corporation (from 1980 to 1990), starting as accounting manager and ultimately ending up as CFO and Senior Vice-President of Finance and Administration. He started his professional career in 1977 with Singer & Lusardi, a well-respected, independent CPA firm located in Worcester, Massachusetts. Mr. Bertrand holds a BS in Accounting from Northeastern University and a Masters from Columbia University.
Daniel Rubano | SENIOR VICE PRESIDENT OF FRANCHISE DEVELOPMENT & OPERATIONS
Dan has over 25 years of leadership experience in franchising and restaurant management. He has served as president of Ranch*1, a grilled chicken franchise, after a successful period – from 1996 through 2001 – as their Director of Franchise Operations.
Dan also served President of Johnny's NY Pizza, a full service restaurant franchise; and President of Rollerz Wraps, a quick service salad and wrap franchise, all of whom were owned by Kahala Corporation. Kahala is the franchisor of over 3,000 restaurants, including such well-known names such as Cold Stone Creamery, Ranch*1, Blimpie, and Taco Time.
Dan was also a member of Soup Kitchen International's Board of Directors from 2003 until 2006.
Al Yeganeh | THE SOUPMAN
Al is our – and the world's – legendary SoupMan. He has been a prominent figure in the media and popular culture for decades, inspiring catch phrases and television shows, as well as frequently appearing on news and entertainment programs himself. In his role he has overseen our production, quality control, new product and menu development, and has supported our marketing efforts. Mr. Yeganeh has more than 35 years of experience in the culinary arts and has operated the famous Soup Kitchen International in New York City since 1984.
Reggie Jackson | SPECIAL ADVISOR FOR STRATEGIC RELATIONSHIPS
We are proud to have one of America's iconic athletes – known as Mr. October for his extraordinary clutch-hitting – involved with our company as an investor, as a Special Advisor for Strategic Relationships, and as a brand spokesperson. In those roles he supports our sales and marketing efforts through his involvement with important national accounts, attending grand opening events, interviews with the media, and other activities.
Reggie is also Chairman of the "Al Feeds the Hungry Foundation, Inc." a non-profit organization launched by The Original SoupMan in 2005 that donates funds to local hunger charities each time a new franchise location opens.
Although it doesn't need to be said, Reggie is a Hall of Fame legend who is known by all for his post-season clutch hitting. Over a 16-year stretch from 1971 to 1986, Jackson's teams advanced to the post-season 10 times, winning five World Series titles, for the Oakland A's and New York Yankees. He won the home run title for three different teams and produced some of the most dramatic homers in history.
Larry Thomas | SPOKESMAN FOR THE ORIGINAL SOUPMAN
Larry is an actor most recognized for his Emmy-nominated performance as "the Soup Nazi" from Seinfeld. Larry has been an actor for thirty-five years and is a veteran of many television shows, films, and hundreds of theater performances.
Born in Brooklyn, New York, Larry has been many things, including bail bondsman, bartender, and brain surgeon. (Well, not really brain surgeon, but it rounded out the three Bs. Actually, you can add janitor to that list, just as important in some circles—let's face it.) As a father, Larry is grateful for his family and career.
During a life of hard work, Larry always found time for his only three hobbies: watching movies and TV, cooking, and running (not necessarily all at the same time). Having had his lifelong fantasy of being on the big and small screen come true, he is now using his college journalism degree and adding author to that repertoire.