Vapetek, Inc. (OTC:VPTK) is a technology company engaged in developing, marketing and selling electronic cigarettes ("e-cig"), e-liquids, rechargeable batteries and vapor devices in the emerging growth e-cigarette industry.
The Company's business product mix currently stands at 25% e-liquids and 75% devices, which consist of e-cig, rechargeable batteries and vapor devices.
Thus far all of their revenues have been from the sale of 3 products; The Vapetek Liquivape e-Liquid, 1100 mAh Vapetek Batteries and our DA Blaster product.
All of their products are U.S. pharmacopeia (USP) grade which means their e-liquids meet the product quality and standards set by The United States Pharmacopeial Convention, a non-profit organization that publishes food ingredients and dietary supplements.
Food ingredients, flavorings and colorings, are reviewed by the USP and these standards are used by regulatory agencies and manufacturers to help ensure that these products are of appropriate identity, as well as strength, quality, purity and consistency.
The Company has positioned itself as a technology company focused on the adoption of electronic vaporizing cigarettes (commonly known as "e-cigarettes") by the world's 1.2 Billion smokers.
The Company provides high quality e-cigarette devices, electronic refillable and rechargeable atomizers and e-liquids offering a much safer alternative delivery system for nicotine.
There are an estimated 300,000,000 people in the United States, with approximately 28% or 84,000,000 of the population classified as active cigarette smokers.

VapeBIT
VapeBIT Smart Contracts
VapeBIT Blockchain (VBT) is a ground breaking peer-to-peer payment solution for banks, merchant processors,  vape industry (Vaporizers, E-Cigarettes, and other Electronic Nicotine Delivery Systems) and the alternative products industry.
The protocol is built upon a distributed open source internet protocol, proof-of-stake (POS) consensus ledger and native currency. VapeBIT enables cross-border payments without the need of correspondents and is capable of transfer speeds of 30 seconds or less.
Vapetek, the Orange County, California startup, built an ethereum-like payments platform aimed at alternative products and banks, is seeking roughly 25 thousand Ethereum (Ether) in funding through the ICO. The publicly traded company specializes in blockchain technology and E-Cigarette products.
VapeBIT is an asset exchange smart contract token designed for the vape and alternative products industry that uses a proven industrial performance and scalable platform that doesn't rely on the traditional routes or ICANN. VapeBIT operates smart contract applications that run exactly as programmed without any possibility of downtime, censorship, fraud or third party interference, without a middle man or counterparty risk.
VapeBIT if full of features like Dynamic Account Permissions, Recurring and Scheduled Payments with flexible withdrawal permission, referral rewards program and easy and secure transactions.
VapeBIT ICO is expected to launch on 7/7/2017, users can submit Bitcoin, Ethereum and Waves cryptocurrency tokens to invest in the ICO. Stay tuned for more information.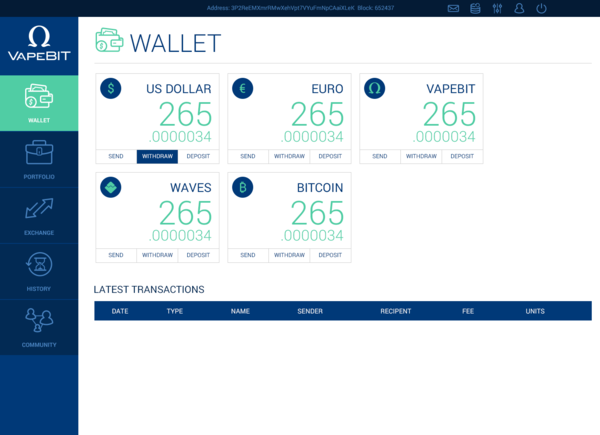 ---
Company Website:
Contact Info:
Vapetek, Inc.
580 West Cheyenne Ave.
STE 160
North Las Vegas, NV 89030
Phone: 1-888-827-3451
---
SEC FILINGS
Quarterly report [Sections 13 or 15(d)]
– DOC
Notification of inability to timely file Form 10-Q or 10-QSB
DOC
Annual report [Section 13 and 15(d), not S-K Item 405]
– DOC
Notification of inability to timely file Form 10-K 405, 10-K, 10-KSB 405, 10-KSB, 10-KT, or 10-KT405
DOC
Current report, items 4.01 and 9.01
DOC
Quarterly report [Sections 13 or 15(d)]
– DOC
---
Key Personnel:
| | |
| --- | --- |
| | Mr. Alham Benyameen is Chairman of the Board of the company. he is the Co-President of West Coast Vape Supply Inc., with Andy Michael Ibrahim, an international distributor to retail locations supplying the vaping industry with high quality brand names since August 2013. Since January 2006, Mr. Benyameen has been the President and CEO of MeWe World, Inc. an online retailer of consumer electronics with 7 employees, which was recently honored by inclusion in the 2009-2011 editions of Internet Retailer's Top 500 Guide. Mr. Benyameen grew the company's revenues from $50,000 to over $24M dollars over a period of 2 years. Since July 2011, Mr. Benyameen has been the President of PennyGrab, Inc., an online pay to bid auction website, PennyGrab, Inc. which had over $1M in sales in 2013. From 1999 to 2001 Mr. Benyameen worked as a sales manager for Atek, responsible for obtaining profitable results through the sales team by developing the team through motivation, counseling, skills development and product knowledge development. From 1997 to 1999, Mr. Benyameen worked at as a sales associate for Bit-By-Bit Computer Rental, one of the largest computer equipment rental companies in Southern California. Mr. Benyameen identified and generated leads for new business through the use of sales marketing tools. |
| | Mr. Andy Michael Ibrahim is President, Chief Executive Officer, Chief Financial Officer, Secretary, Director of the company. He is the Co-President of West Coast Vape Supply Inc., with Alham Benyameen, an international distributor to retail locations supplying the vaping industry with high quality brand names since August 2013. Mr. Ibrahim has more than 15 years experience in marketing, branding, from product development to fulfillment. From 2002 to present, Mr. Ibrahim created Creative Art Center, Inc. to expand marketing practices to other companies that can benefit from proven marketing strategies and to increase revenue and grow market share. Creative Art Center, Inc. has and continues to be a great source for name brands to get help and increase the product sales and visibility in their industry. Mr. Ibrahim continues to oversee operations, product sales, purchasing and marketing for the company. Mr. Ibrahim worked from 1999 to 2002 as the marketing director for Affiliated Funding Corp. Mr. Ibrahim managed a team of mortgage consultants and successfully acquired more than $100M in business per year from licensed active Realtors Nationwide. During this time Mr. Ibrahim executed a marketing plan that captured the market share of many top leading corresponding lenders. Mr. Ibrahim managed a team of designers and production specialist to create, produce, market and distribute a international brand named Shaolin Clothing from 1995 to 1999. In that capacity, Mr. Ibrahim successfully negotiated and the implemented the acquisition of other brands to create a distribution company to add value with brand names for the distribution. During this time He managed and organized many trade shows and product exhibits. Then Mr. Ibrahim helped the distribution be acquired to Global World Industries. Mr. Ibrahim attended University Of Phoenix from 1999 to 2002 and also graduated from Orange Coast College with an emphasis in Business Marketing. |