Victura Construction Group, Inc., (OTC:VICT), is a holding company focused on strategic acquisitions within the construction industry that service both residential and commercial sectors in new development and construction projects, restoration and re-build following any covered loss or catastrophic event and materials supply opportunities within the industry.
Victura operates with excellent business practices and management expertise, sound ethics, financial resources as applicable, and utilizes strategic industry relationships to help add to the success of any acquired company(s).
Corporate Websites:
Victura has seven operating subsidiaries in the construction industry:
Cherubim Builders Group/DFW consisting of Metroplex Home Repair, Inc. DBA Gregg Construction, WaterMasters Restoration, Inc. and Designer Lane.
Cherubim Builders Group/OKC, including a Designer Lane branded showroom
Gregg Commercial Construction
Cherubim Interests
Cherubim Custom Millworks
Victura Roofing
Victura Electric
Victura is poised to integrate its arsenal of human assets, history of performance achievements and industry partnerships to realize the exponential opportunities at hand. With the proper capitalization and marketing, this convergence will allow us to capitalize on these opportunities and relationships that will ultimately bring incredible marketplace success and profits.
Gregg Construction Company
Gregg Construction Company specializes in Water, Fire and Storm Restoration and reconstruction services. Gregg Construction Co. has 42 years of history servicing the restoration and insurance claims industry in the Dallas-Fort Worth area, establishing a reputation of being exemplary in industry knowledge, project execution and overall Homeowner and Carrier satisfaction.
WaterMasters Restoration Inc.
WaterMasters Restoration, Inc. also specializes in Water, Fire, and Storm restoration and reconstruction services, with an emphasis on large loss occurrences. Certified Professionals in estimating and project management guarantee exceptional service and outcome in residential and commercial losses. WaterMasters Restoration has 60 years combined experience in servicing the insurance industry. WaterMasters Restoration has distinguished itself with Adjusters by providing incomparable large loss project management and execution that saves the Insurance Carriers money in ALE (alternative living expenses) and gets the Homeowners back into their home in a shorter time span, creating value for both parties.
Designer Lane
Originally created as a material supply company to service its sister companies Gregg Construction and WaterMasters Restoration, Designer Lane delivers an entire experience––a turnkey renovation service with three principle area of focus: kitchens, bathrooms and outdoor living areas. The Company is uniquely qualified to provide one-stop kitchen, bathroom, and outdoor living space design and renovation, quickly and efficiently. As a supplier, Designer Lane helps Gregg Construction and WaterMasters Restoration excel as the companies that insurance carriers and families across North Texas rely on when they desperately need assistance getting back into their homes. Designer Lane brings the same philosophy of service to their "non-emergency" clients. The Company believes that one shouldn't be inconvenienced for months during a kitchen, bath, or outdoor living space renovation project and the goal is to bring each client's dream to life in the least amount of time possible. With the alliance of Designer Lane and Gregg Construction, clients enjoy the peace of mind that comes with dealing with a single contact throughout renovation, along with the same sense of urgency to complete a project in the most efficient and timely manner.
Because of its volume and negotiated pricing with suppliers, Designer Lane can also deliver almost any building component as a supplier to builders, general contractors and multi-family developers at a great price point. These relationships allow Designer Lane to be a key component in Victura's future success in residential, commercial and multi-family projects, providing key building components to all subsidiaries under the Victura Construction Group umbrella.
Cherubim Builders Group, OKC and Designer Lane
CBG/OKC operates from our Downtown Oklahoma City showroom that is branded with the "Designer Lane" concept and relationships. CBG/OKC focuses on opportunities in restoration and reconstruction, as well as multi-family and new home construction. Additionally, Victura Roofing will begin operations in alliance with CBG/OKC to service their internal needs, as well as begin to perpetuate trade specific market opportunities.
Designer Lane will begin to utilize current relationships and build a much needed materials supply chain option for builders, general contractors and multi-family/commercial developers. This platform will allow the rapid entry of Cherubim Custom Millworks into the market as both a supplier and fabricator.
This launch of operations, products and services will serve as the "template" for future market expansion.
Gregg Commercial Construction
Gregg Commercial Construction Company is a full service commercial general contractor currently working in the DFW and South Texas markets. The relationship with Victura allows Gregg Commercial to expand its operations into multiple states.
Services include:
Full service general contracting/ground up
Demolition
White box
Tenant finish out
Restaurants
Hospitality
Multi-family
Insurance Fire/Water restoration and reconstruction
Maintenance contract services
Additional services
Certified design and planning team
Budget analysis
Material and product distribution
Subcontracting
Cherubim Custom Millworks
Cherubim Custom Millworks, Inc. is a full-service architectural millwork business providing custom interior and architectural woodwork and stonework subcontractor for residential and commercial General Contractors, Architects and Builders. We are known for our high quality architectural casework and millwork, as well as any solid surface materials. Our products can be found in some of the finest office interiors, restaurants, manufacturing and industrial buildings in the country. We are located in the Dallas/Fort Worth Metroplex but fabricate and install all over the United States.
Cherubim Custom Millworks is a fully automated operation and has the in-house capabilities to support production and installation of custom millwork and stone projects (granite, quartz, solid surface, laminate, etc.) of any size or budget.
Our team is experienced in creating the design professional's vision, from schematics to production through fabrication, finishing and installation. Every aspect of your project is under the supervision of our highly experienced management team. Our facility is equipped with the latest in technologically advanced equipment, producing the highest quality outcome.
Cherubim Custom Millworks is fully insured with bonding ability, offering these services:
Estimate and Budget Analysis
Plan review and pre-production planning
In-house design development and drawings
In-house production
Expert installation
Project management
Cherubim Custom Millworks fabricates and installs for:
Commercial and Corporate interiors
Hotels and Hospitality interiors
High-rise tenant finish out
Retail finish out
Restaurants and Bars
Food serving lines
Golf Course and sports themed facilities
Reception desks
Cherubim Interests
More than a buyer, Cherubim Interests is led by highly experienced directors and a notable management team who are experts in their specific disciplines of property management, construction, and finance. We are determined to build on our initial success and fulfill our vision to be a leader in multi-family real estate development, management, and investment. Our past performance is a testament to our commitment to integrity and professionalism, and allows us to create partnerships in single and multi-family development as a full-service provider to investors and general contractors.
We are designed to identify multifamily property for the purpose of investment purchase. We specialize in covering the entire spectrum of development: due diligence, acquisition, planning, construction, renovation, and management; providing complete beginning-to-end development programs for single and multi-family projects and properties.
Victura Roofing
Led by industry professionals with a 20 year track record of success, Victura roofing provides quality work to our internal subsidiaries as well as a platform for market business opportunities in the Dallas/Ft. Worth and Oklahoma City areas. Utilizing the key contacts and relationships from all subsidiaries, Victura Roofing will see rapid growth in the upcoming year.
Victura Electric
As with Victura Roofing, Victura Electric will provide the internal service required to facilitate all our subsidiary projects, as well as begin to capitalize on market opportunities to quickly expand its own service footprint.
Opportunities and Strategic Alliances
Victura has entered into several strategic alliances that allow for local, regional and national growth. Several visions of growth can now become reality with alliances in funding, a national labor component and a state of the art project management and communication tool. These alliances bring to fruition opportunities to expand in not only our current restoration/reconstruction models, but also in commercial services and multi-family acquisition/development. Additionally, these alliances will enhance supply chain capabilities that could garner new national program relationships with builders and general contractors as a materials supplier, as well as the development of a national single trade cabinet program that could be presented to the insurance industry for a regional or national rollout.
The recent partnerships and addition to already existing staff with a combined 100 years in construction expertise, allowing us to bring about the convergence of "human assets" that give Victura has industry professionals in:
Residential and Commercial construction management
Showroom and staff Designers
Insurance and contractor program management
Continuing Education programs and certification for the Insurance industry
National materials supply relationships
Supply chain distribution and logistics
Multi-family property identification, due diligence, acquisition and management
Custom millworks product production
Market Opportunities

Texas is big. It's the largest state in the continental United States and covers over 268,000 square miles, making up 7.4% of the nation. Texas alone is bigger than all of New England, New York, Pennsylvania, Ohio and Illinois combined. Even the DFW airport is larger than Manhattan. While most people are aware that Texas is physically a large place many have a false perception of the state. Contrary to popular belief, Texas is not just an open range full of cowboys and horses. In fact much of Texas is a budding and modern, urban metropolis. Texas is home to over 25 million people, 82.5% of whom live in metropolitan areas, and of the Top 10 most populated cities in the U.S., three are in Texas: Houston, Dallas and San Antonio. The Dallas / Fort Worth metroplex has more residents than the entire state of Arizona and 31 other states. If Texas were its own country it would be the 10th largest in the world. It would have the 12th largest economy, based on gross domestic product, ahead of Mexico, Russia & India. It would be the 5th largest oil and gas producing country in the world and more Fortune 500 companies call Texas home than any other state except California. Texas has the largest population growth rate of any state in the US and is growing by over 1,000 people a day. The Dallas / Fort Worth metroplex is the #1 fastest growing metro areas in the nation. In fact, the term "Metroplex" was originally coined and is uniquely used, to describe the Dallas Fort Worth area. It aptly names DFW's sprawling metropolitan area that contains several cities and their suburbs. Texas dominated the list of the nation's fastest growing cities with San Antonio, Fort Worth, Houston, Austin and Dallas all landing in the Top 10.
Austin – Is home of the state capital, and known worldwide as the "Live Music Capitol of the World". It has a very large student population and is home to the University of Texas. It plays a major role in computer technology and is home to one of the largest computer companies in the world, Dell. In recent years the Texaplex has been at the forefront sustainable green energy systems.
Dallas – Fort Worth – Serves as the states banking and financial center and is home to the 5th busiest airport in the world, DFW. It is a major wholesale and distribution center by both air and land. Additionally high-tech industries such as telecommunications have contributed to a great amount of growth in the Dallas-Fort Worth Metroplex.
Houston – Features the second largest port in the United States, and dominates the Oil and Natural Gas industry. It is home to NASA's Johnson Space Center, and the first word spoken from the moon… "Houston".
San Antonio – Has strong historical significance in Texas in that its home to the Alamo. The Alamo, as well as the Riverwalk, Fiesta Texas, and Sea World make tourism a major industry in driving San Antonio's economy. Additionally, San Antonio is home to a large military presence which provides the main source of employment, or the city. Each Texaplex city has its own distinct personality, and provides goods and services for the rest of the Texaplex cities.
Catastrophe Opportunities
Through our subsidiaries, the Company has been engaged in water, fire, and storm restoration and has a combined 60 years reconstruction services with an emphasis on large loss occurrences. As a result of the tornado season gripping the Southwest and the devastation experienced recently in Oklahoma, the Companies will target areas where wide spread inclement weather occurs.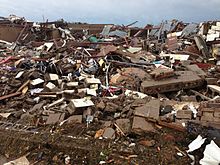 EF5-rated damage at Briarwood Elementary School
In Moore alone, over 4,000 homes were destroyed with another 8,000 to 9,000 damaged affecting 33,000 people. Most areas in the path of the storm suffered catastrophic damage. Entire subdivisions were obliterated and houses flattened in a large swath of the city. The majority of a neighborhood just west of the Moore Medical Center was destroyed. Among the hardest hit areas were two public schools: Briarwood Elementary School and Plaza Towers Elementary. The Moore Medical Center was heavily damaged, but no injuries were caused. Staff had to relocate 30 patients to nearby Norman and another hospital. As of May 21, Moore still did not have running water and there were more than 61,500 power outages related to the tornado. The Oklahoma Department of Insurance said the insurance claims for damage would likely be more than $1 billion.
EF5-rated damage at Briarwood Elementary School
Although there will be significant competition for the "low hanging fruit" of lightly damaged homes (roof repairs, light exterior repair, etc.), the longer term prospects for the property clean-up and rebuilding of destroyed homes will have less competition and high profit margins. Management has targeted this more narrow market and committed resources to explore the opportunities. With a nominal increase in permanent senior staffing and use of imported labor (from the North Texas area), management estimates that the Company could expect to clear and reconstruct over 300 properties and over 150 homes in need of major repair. This would equate to over $60,000,000 in additional gross revenues over the next three (3) years with profits exceeding an estimated $12,000,000.
The approach for reaching this market will include the use of long-term relationships with insurance carriers and a physical presence in the affected areas.
Additional Opportunities
Victura is currently finalizing relationships in the flooring and commercial glass industry, as well as other related service areas that will be strong strategic partnerships leading to new subsidiaries within the organization. Victura's organizational vision is to have a strong vertical market lineup of subsidiaries and strategic alliances that will produce:
Controlled internal services to each of its project/labor specific executional entities
Shared relationships and bid opportunities of "complete services offered" from within the organizational group
Strong independent profit centers that are exemplary in their industry skills and stand-alone project execution
Victura has also contracted and begun the planning stages of an initial design/build of Nevada's first structure licensed to produce medical marijuana in Clark County. This prototype structure will be the "template" that we believe can lead to multiple build opportunities for all current and future license holders both in Nevada and other States that have recently legislated to allow medical facilities to be built.
The leaders of Victura Construction Group believe that this "partnership" platform is sorely needed within the realms of both residential and commercial development, building and restoration. Having years of experience that has led us to this model based on experienced need, we believe that rather than being part of the cliché of "One throat to choke", with the proper leadership, industry specific expertise and funding in place, Victura Construction Group can evoke a new standard of excellence in being "One hand to shake."
Company Related Items
Company News