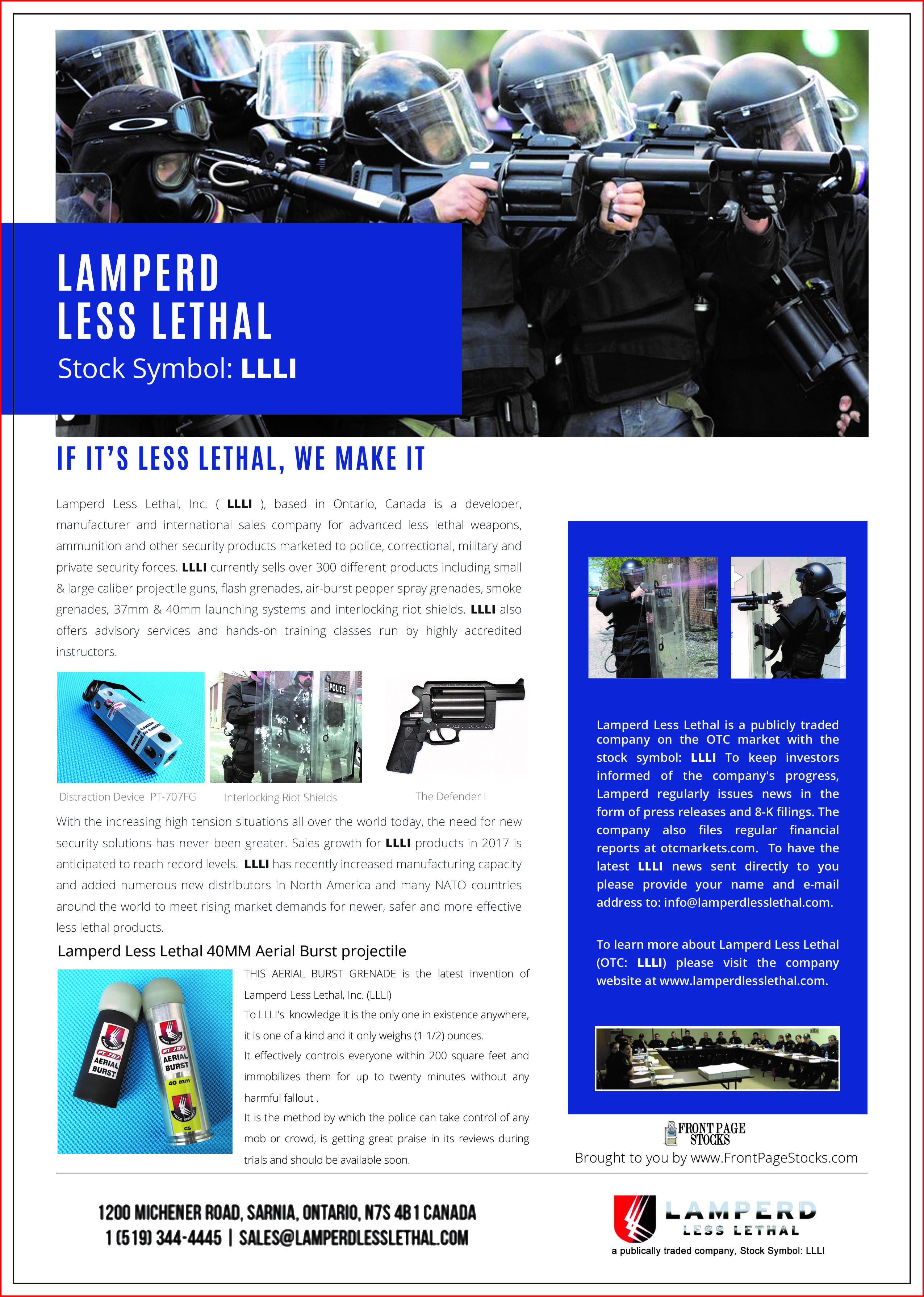 Lamperd Less Lethal, Inc. (OTC Trading Symbol: LLLI) has been a leader in the field of Research and Development specific to Use of Force training, equipment and application for over 40 years. They truly are the Canadian force research and development experts and have been supplying training and equipment to Police services, Military and Security agencies for over 40 years.
Lamperd Less Lethal has developed a line of exceptionally high quality launcher systems, which have gained widespread industry attention for their accuracy, ease of use and flexibility. The company also produces a variety of less lethal munitions, which are rapidly gaining recognition for consistently high quality and superior performance. The munitions are designed for Lamperd Less Lethals proprietary launcher systems, but they can also be used in weapons produced by a wide variety of other manufacturers. The company also manufactures a state of the art firearms training simulator, (Firearm Training Systems), along with training replicas of the popular weapons used by Law Enforcement and Military personnel.
Lamperd Less Lethal has been assigned a NATO Commercial and Government Entity (NCAGE) Code, which enables it to sell military supplies to any NATO member country, and a federal Business Firearms License, which allows for the manufacture, repair, storage, import, export and sale of virtually any manner of firearms and ammunition. Lamperd Less Lethal is one of only a very few manufacturers of less-lethal munitions in the world to receive these approvals.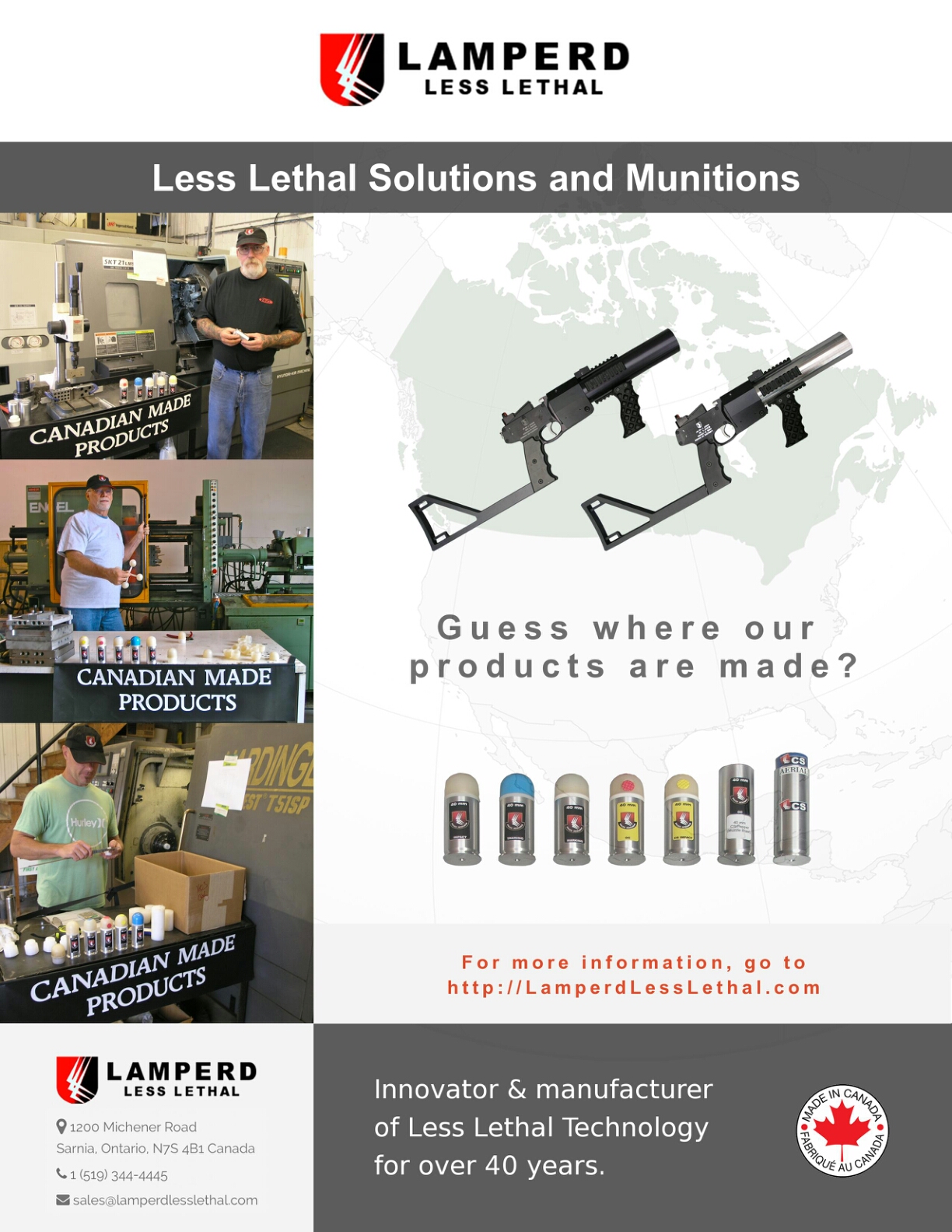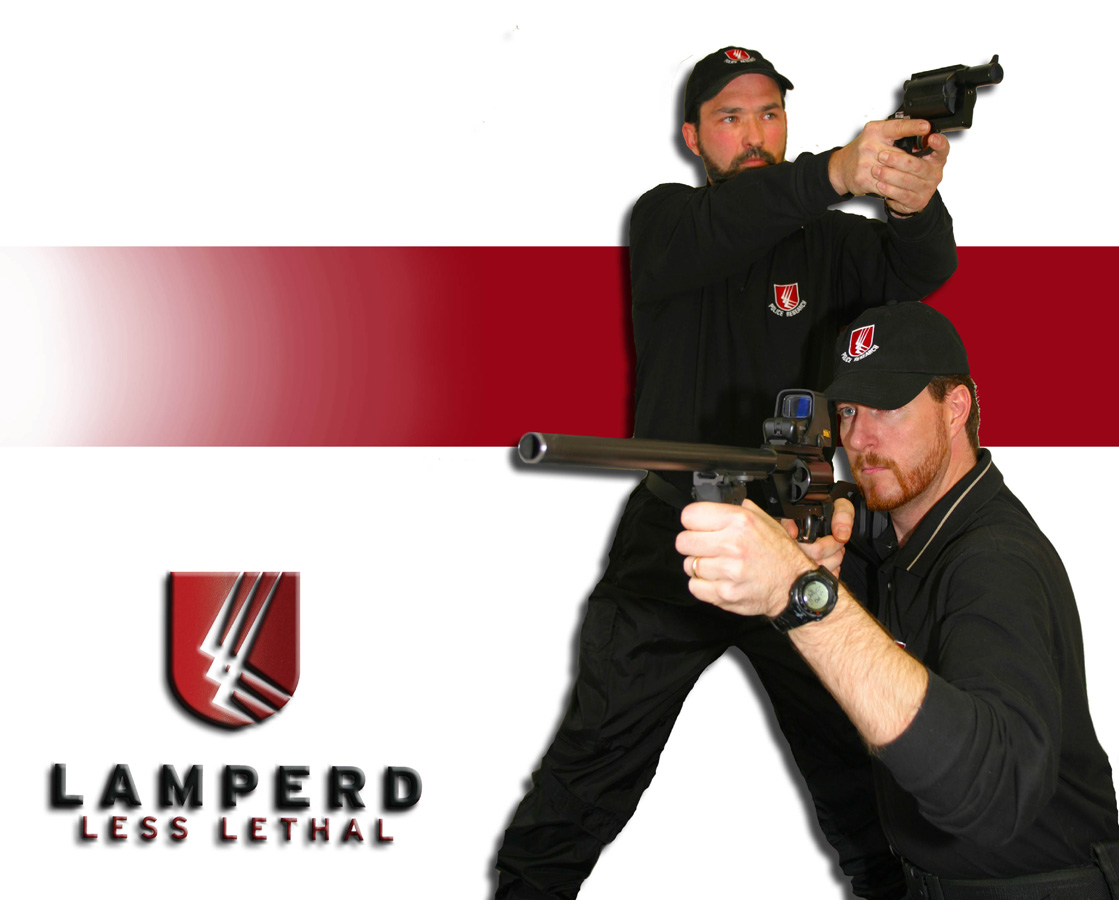 Less Lethal Solutions
Solutions. You have problems and Lamperd Less Lethal has the solutions to those problems. You are worried about Officer safety, public safety and subject safety. Lamperd Less Lethal is worried about Officer safety, public safety and subject safety, It is with these objectives in mind that Lamperd has created an exceptional line of Less Lethal firearms/delivery systems and munitions ranging from 9mm to 50 caliber and impact rounds from 37 to 40 MM.
Law Enforcement officers face overwhelming challenges in dealing with a wide range of disruptions and in making split second decisions. Many of the existing technologies employed today are quite limited and require extensive training.
Whether this is for crowd control, airports, border crossing, security officers at government agencies and banks or even for day to day police encounters, the Defender I offers superb solutions to deal with all these conflicts. The Defender I deploys distraction rounds, pepper rounds, scientific less lethal rounds, training and blast rounds.
The Lamperd Less Lethal Defender II is a shoulder fired, 20 Gauge Less Lethal delivery system that operates on the time tested 5 round revolver action. This gun has an 18 ¾ inch barrel that is extremely accurate, and serves it very well for those long distant shots for public order – 400 fps (272.7 mph, 438.9 km/h) Defender II is compact enough to be deployed in Close Quarter Battle situations.
The Lamperd Less Lethal 50Cal. Upper. The Upper fits your AR/15 and combines the rugged reliability of the AR/15 rifle with LLLI's new less lethal synthetic round technology. This unit converts in seconds, and is a new weapon system that is ideal for public order situations. Performance is exceptional at 500 ft. per second (340.9 mph, 548.6 km/h) and is effective to 100 feet!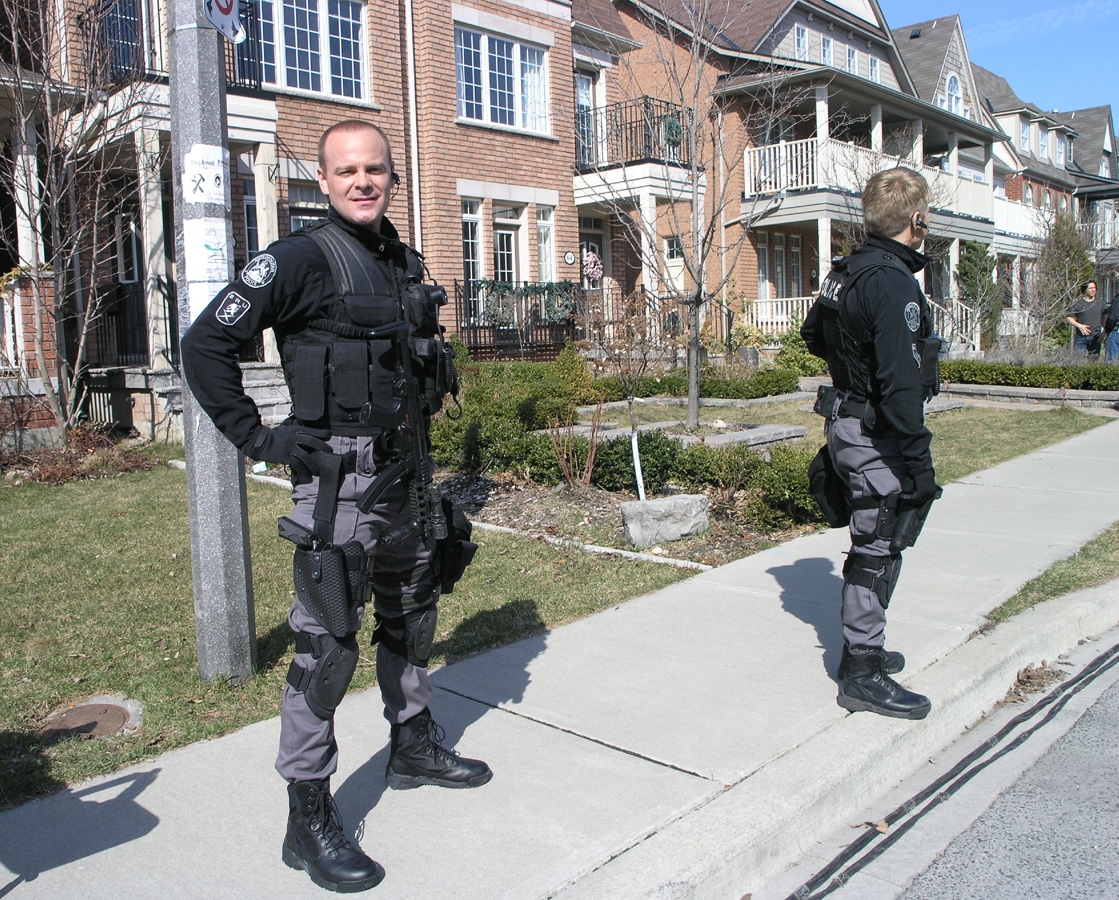 Crowd Control Tanks – FoxLabs and Lamperd Less Lethal do it again. Although there have been and are other "tank" systems in the market (including LLLI's original Mega Tank units) none have been as easy-to-use, while offering the incredible spraying time of the CCT. The CCT utilizes two strong, but lightweight aluminum tanks that are carried in a rugged, padded backpack. This allows the officer free use of both hands and arms, and also serves as protection for the tanks and keeps them from access by an attacker. Additionally, instead of having to point a cumbersome tank in the direction one wants to fire, all the CCT requires is to point and fire the hand-held nozzle. This means an officer can fire in virtually any direction without having to turn and point the tank at the crowd. The CCT is safe, allows more officer mobility and firing flexibility while covering the same distance as other units, but it can do so for an ASTOUNDING 90 SECONDS STRAIGHT – WITHOUT A REFILL! You can spray for 90 seconds non-stop or you can fire up to 200 short bursts up to 40 feet.
FEATURES AND DIMENSIONS
– Holster system secures to the leg and to the belt for additional support and security;
– Easy-to-read pressure gauge is mounted on the firing handle;
– Coiled firing hose length 26″ normal tension, 65″ with hose fully extended allows more options for using in different circumstances;
– Easy fill funnel adapts to gauges and tanks;
Optional 6 3/4 stainless steel OC Spike can penetrate mattresses, hollow wood doors, aluminum storm doors and other similar types of material;
Total weight of the entire system fully filled and charged is only 24 lbs. Padded backpack measures a compact 24″ high x 12″ wide x 7″ thick with adjustable back strap;
Less Lethal Munitions
If it's Less Lethal LLLI makes it, 20 gauge 12 gauge, 9mm, 5.56mm, 7.62mm, 50 cal 37- 40mm. All munitions are designed to fit standard issue magazine's and standard weaponary such as pistols, rifles, shotguns and launchers
37-40MM Impact, Distraction and O.C Rounds – The Wasp 40mm multi shot, delivered from LLLI's single shot or multishot launcher, accurate to 50 feet with an 8 foot spread. Each 40mm case contains 14 projectiles, delivered from LLLI's 5 plus 1 multi you are now capabale of delivering 84 rounds on target!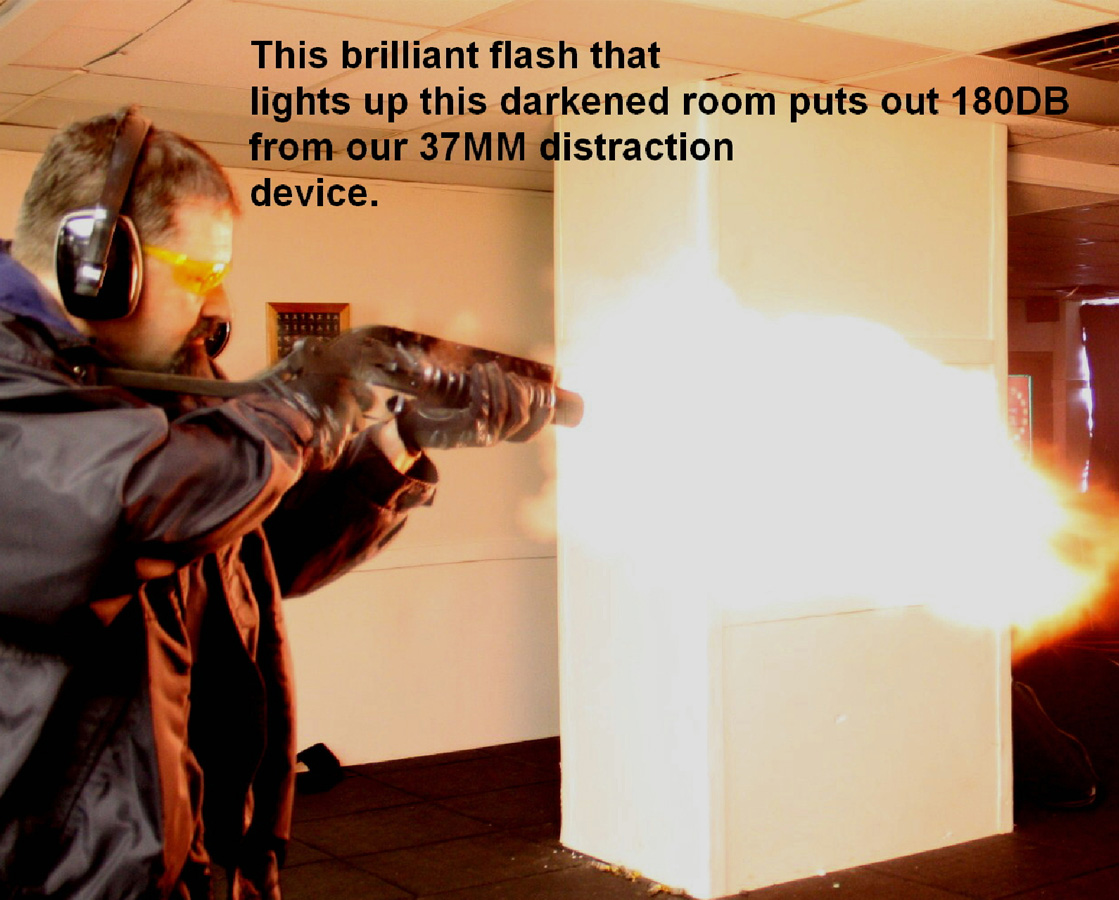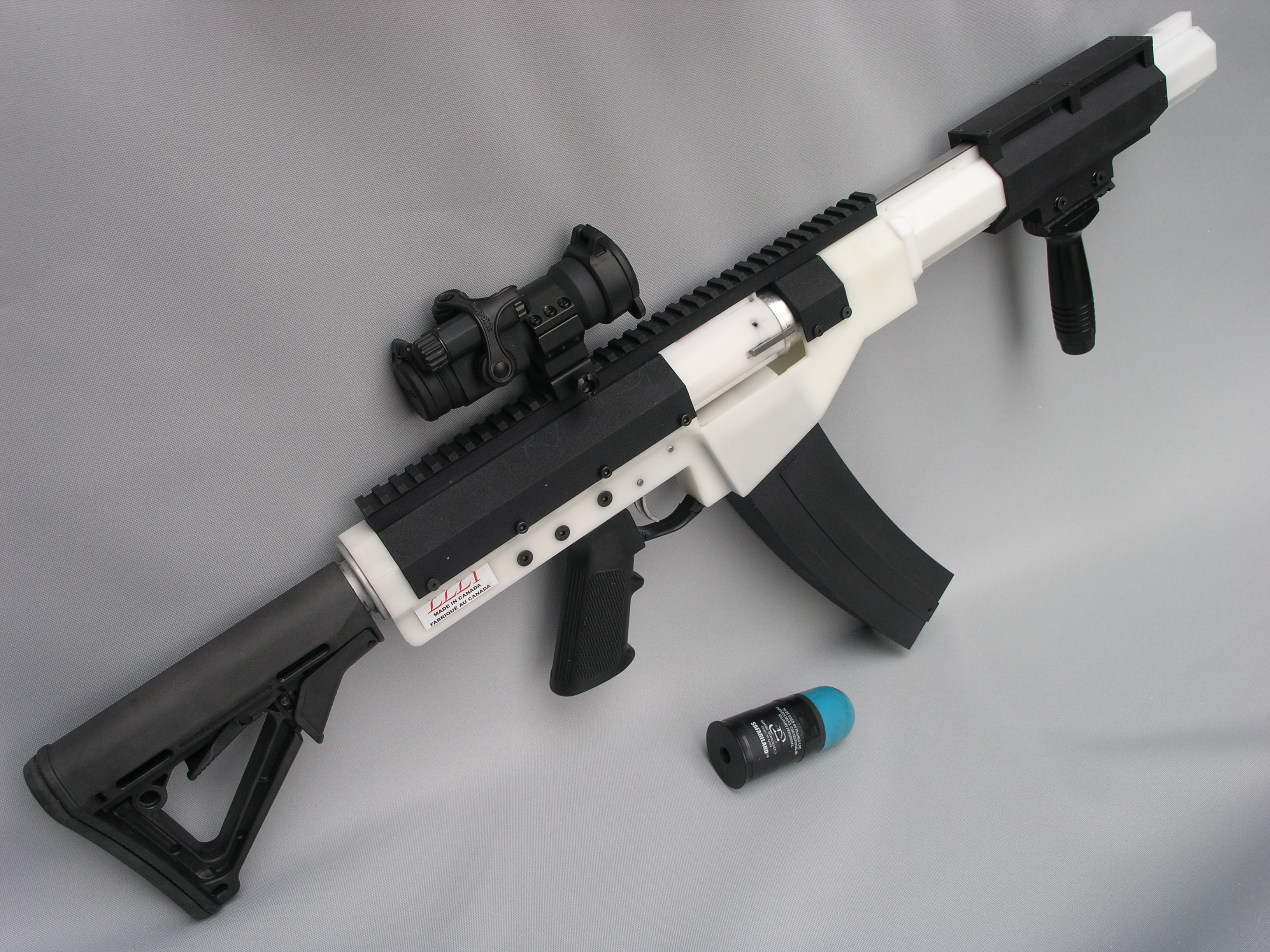 12 and 20 Gauge Rounds – WASP is a novel, lead free and well-researched (two years) rubber projectile that has won numerous awards in North America. The WASP is composed of a specialized composite that allows it to maintain its properties over a wide range of temperatures from -50°C to 100°C (-58 to 212°F ). It also dissipates energy, thus inflicting an adequate but not lethal trauma to the target. Testing of LLLI's WASP was conducted on non- animal materials including ballistics gel and ballistics clay; that research was a key component in the development of LLLI's Less Lethal Wasp. LLLI's Less Lethal Technology will save lives as itsuse continues to expand in the Military and Law Enforcement areas – unlike the growing and tragic history of deaths related with the present stun gun technology. The aerodynamic design virtually eliminates missed target zones caused by errant projectiles and ensures the same strike profile, removing any possibility of spinning or fluttering shot after shot.
12 GAUGE BREACHING ROUND – WARNING: NOT INTENDED FOR USE ON HUMANS MAY CAUSE SERIOUS INJURY OR DEATH. The Breaching Round, designed to defeat door locks and hinges. The breaching round is fired four (4) to eight (8) inches from the target, at impact the metal powder filled projectile disintegrates, dissipating its entire energy on the target, providing access through doors by removal of door locks or hinges through kinetic energy impact. The Breaching Round is a 12 gauge cartridge which produces 2,080 foot pounds of energy into an area 0.75 inch diameter. It is constructed of iron powder and polyurethane and cloth. It is frangible disintegrating projectile which turns to iron dust when a sufficiently hard object are struck, limiting penetration through secondary walls and collateral damage.
Next To Lethal (NTL) ROUNDS – WARNING: NOT INTENDED FOR USE ON HUMANS MAY CAUSE SERIOUS INJURY OR DEATH. Lamperd is pleased to announce the latest additions to the WASP family of superior munitions. Introducing the 7.62, 5.56mm and 9mm. THESE ROUNDS ARE NEXT TO LETHAL (WE ARE NOT CALLING THESE ROUNDS LESS LETHAL) THESE ROUNDS ARE DESIGNED TO BE DELIVERED BY STANDARD WEAPON SYSTEMS CHAMBERED FOR 7.62, 5.56 AND 9MM INCLUDING AR/15, M4 AND C8 PLATFORMS AND AK'S. THEY ARE MORE THAN CAPABLE OF TRANSFERRING ENOUGH ENERGY TO THE SUBJECT TO KILL. ACQUISITION OF TARGET AREAS INCLUDING THE HEAD, THROAT, NECK, HEART AREA AND SPINE AREA WILL CAUSE GRIEVOUS BODILY HARM AND OR DEATH
Company News
[wp-rss-aggregator source="11328″]